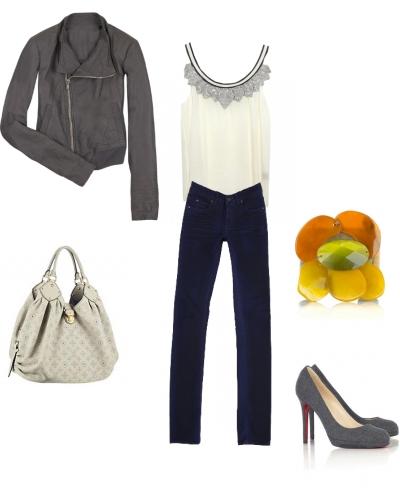 Without a doubt, Clueless has to be one of the all-time greatest movies ever. And probably one of everyone's favorite scenes is when Alicia Silverstone's character, Cher, taps into her laptop to play with her virtual wardrobe. I mean, how freaking cool is that? We see ensemble after ensemble spinning around for us to drool over right on her computer.
Want a virtual closet of your own? I do. That's why Closet Couture is totally my new hero. I haven't had a chance to fully experience it yet but it's much like Cher's virtual wardrobe play, with a social media aspect to it too.
Go to www.closetcouture.com and sign up for a free (yay, free!) account. You'll be able to upload images of everything in your closet to save in your virtual wardrobe. It's a simple as taking shots on your digi cam (with a white background) and uploading to the site.
What's even better, you don't even have to upload every single thing you own. When you first sign up some "basics" pop up based on your wardrobe personality. Are you a classic? Your virtual closet comes stocked with basics like a Calvin Klein white button-down, wide-leg jeans and a crisp Moschino black dress. Basically, things you pretty much already own! You can also browse the wardrobes of other members and add items they have to your closet.
But wait, it gets better. As much as I love being able to play dress up by myself, sometimes you need a second opinion. Closet Couture allows you to link up with your friends or stylish strangers and help suggest outfits for them. Going on a weekend trip and not sure what to pack? Ask your pals to help you style outfits in your virtual closet! It's crazy what combinations others will come up with you may have never seen before. Plus, you can gain inspiration for yourself by following other stylish Closet Couture members.
There's forums to get involved in, shopping links and, if you're in need of a professional stylist, they're on hand starting at just $25 for one outfit/event. The site offers everything from a complete wardrobe overhaul ($1,000) to packing for a weekend trip ($100).
I can't wait to delve further into this site and have a little photo session with my closet. Plus, helping others pick out outfits? Yeah, sounds superfun to me!
If you do decide to join, link up with me!
Screenname: MarleneM.