Chanel Couture 2012 made its debut on Tuesday night in the Grand Palais, but thanks to the always imaginative Karl Lagerfeld it felt and looked more like Place Vendome complete with street lamps. I don't know anyone who can resist Chanel. Just the name alone conjures up the essence of luxury and chic. I think even Mademoiselle Chanel would be delighted to see the change this season from the more girlish and frilly looking collection of last year to a more lush and lavish elegance. I for one am happy to see a return to a full sophistication.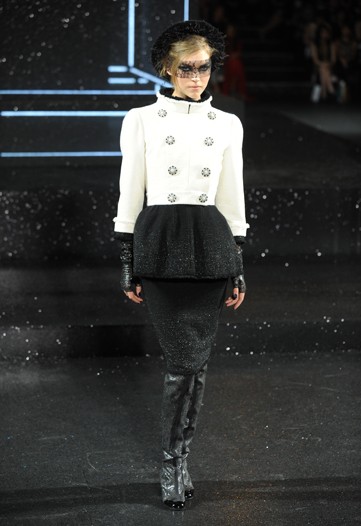 The collection as always includes a myriad of suitings, dresses- both day and evening and of course a bevy of accessories and boots to die for. What differs this season is a return to classic shapes of the 1940's most notably the peplum. And Lagerfeld does it in so many delicious ways.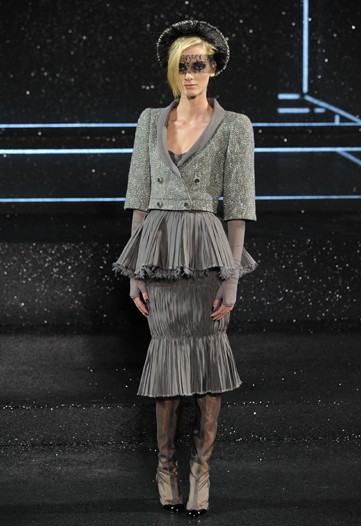 As always black and white were the mainstay shades and when done in tweed were dotted with crystals that sparkled like a constellation in the night sky. Suit shapes ranged from boxy to curvaceous with the boldness that Coco herself would adore. Details were held to only how far Lagerfeld's imagination could take him-everything from sequins to ruching, to tiers and plumes. Fabrics ranged from the aforementioned tweeds to satin, chiffon and silks. It was refreshing to see an entire couture show that was full of non-stop grandeur start to finish.
For evening the gowns were a stunning departure from the often safe red-carpet regalia. These were truly gasp-worthy again mainly in black, white and gray with a few pops of color thrown in like cobalt and fuchsia. Lace, beading and sequins were used en mass to create a glamorous effect that rang of Old Hollywood a la' Jean Harlow. Every shape from structured columns with wispy tiers to a compilation of fringe, feathers and pleats on fluffed shirtdress shapes. Clearly there is a lot going on here and it's all marvelous!
For accessories Lagerfeld stuck to buttons galore to dress up almost every work heading down the runway. And the boots… lets talk about the boots these gorgeous numbers ranged from boaters to mesh and made such an impression I wouldn't be surprised if they encite a fashion riot in every Chanel boutique far and wide. For the finale each model slipped into a platform shoe that flashes lights at the audience. Always full of surprises…. Karl never disappoints!