Being from Arizona, it's practically impossible to pack for cold weather. I own less than 5 longsleeve tops, maybe a sweater or two because doesn't our weather here only really require a tank top layered with a cardigan or jacket on top? So I love any opportunity for me to bust out the gloves and hats and scarves, only that, I don't own nearly as many as I need!
For this trip, I knew I'd be doing a lot of walking so I brought my new chocolate-color riding boots and bought these J brands from Scottsdale Jean Company (12 inch pencil leg, 4 inches of which I had to hack off). They are the absolute best for tucking into boots.

Now my only problem is, I'm lusting after a pair of black riding boots! Another editor on the trip has this amazing pair of black Stuart Weitzman boots which I'm thinking I'm going to have to order when I get home.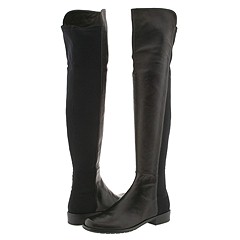 I'd upload some more photos of my shopping adventure mais j'ai oublie le cable for my camera. Bonsoir mes amis! The Parisian shopping must continue…