I'm just going to come right out and say it, I am somewhat obsessed with Boardwalk Empire. In fact I am so obsessed that I actually lost almost ten pounds by watching reruns of the show on my iPad while walking on the treadmill. Somehow even though my body wasn't really ready to tackle 57 minutes of walking/running, I just couldn't bear to stop an episode in the middle… so I just kept going. Now that is dedication to an HBO Show!
So I jumped on the chance to attend the lecture last night "Designing the 20's" with John Dunn the Costume Designer for Boardwalk Empire at the Phoenix Art Museum. Along with special guest Doris Raymond from The Way We Wore one of the oldest Vintage clothing establishments in the country. If you haven't heard about Doris' amazing store take a look online. This woman has an impeccable eye and an insane collection that would make any true fashion lover or historian drool.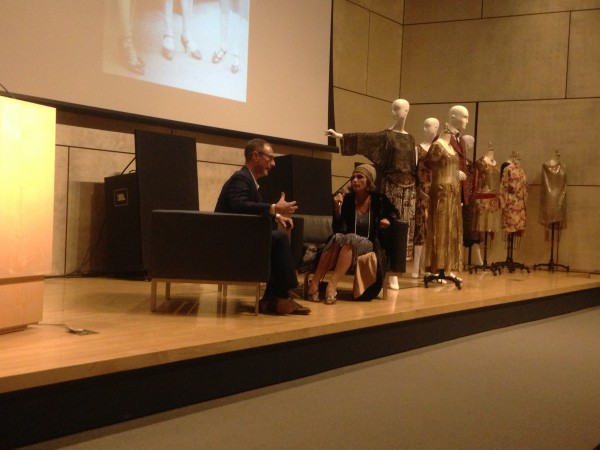 One of the most incredible things to me about the 20's era is how now ninety years into the future we have distilled the trends of the day down to fringy flapper dresses and spectator shoes, but the real truth is that the 20's ushered in a time of opulence and freedom that the country hadn't quite seen and with that came a significant change in dressing from hemlines, to fabrics, beading, pearls and accessories like the cloche' hat.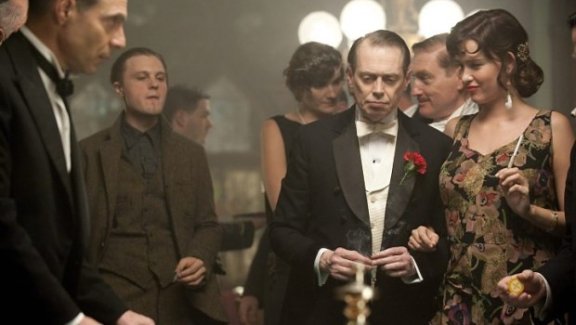 If you aren't already a fan of Boardwalk Empire… you should be. It truly is one of the most well produced, acted and filmed shows on TV. And the costumes… you had me at hello!
I was so intrigued to hear the inner workings of the costume department on the show. John Dunn's department includes 50-60 people at almost any given time and is the largest department on the set. To accomplish what he and his team are able to pull off each episode Dunn pours over loads of old photographs and research to pinpoint the subtle nuances of each characters wardrobe. Then he utilizes fabrics that were available in the 20's – not vintage, but actual fabrics that were used like silks as opposed to synthetics. Dunn also employs a specific tailor in Brooklyn to create suits in the style of the era, as well as a "distresser" to both restore vintage pieces to age new pieces so that they can coexist on screen without looking odd. I asked Dunn who is favorite character was to dress… after a bit of hesitation and saying it's so hard to choose… it would have to be Nucky! Especially since audiences hadn't previously seen Steve Buschemi in such a dapper and powerful character.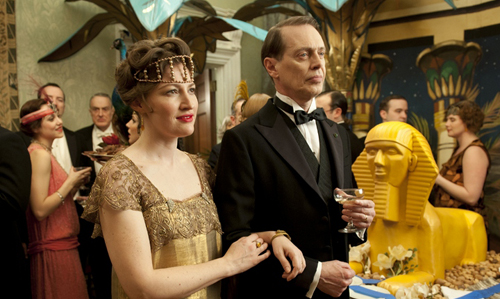 If you are curious to find out more about Dunn and Boardwalk Empire take a peek at this interview from onscreenfashion.com
If you do have a chance to catch Boardwalk Empire take it… you won't be disappointed!