With the balmy spring weather in tow, it's time to pack our bags and get out of town. Whether you're travelling by air, car, or sea, don't let last-minute travel preparations sabotage your style. These staple travel pieces are as chic as they are comfortable.
A Luxury Suitcase that Will Last Forever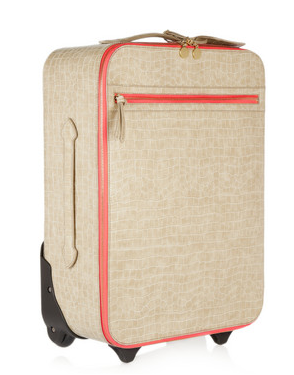 The perfect vacation wardrobe demands an equally chic suitcase, and Stella McCartney's beige faux crocodile design and pink trimming is perfect for spring and pre-summer travel. Available at Net-a-Porter.
These chameleon booties don't just go with every outfit, they're super easy to zip on and off when you reach airport security checkpoint. Available at Zappos.
Nix the sweats for these chic trackpants made out of silk with a fun color pattern to boot. Available at J.Crew.
Pick an neutral Tee that's made of soft fabrics to maintain comfort and match together pieces last-minute. Available at jbrandjeans.com.
Perfect Sunnies


Protect your eyes and mask any dark undereyes with these classic avaiators. Available at ray-ban.com.
Roomy Travel Wallet

When you're in a rush, the last thing you want to do is go on a scavenger hunt for tickets, passports and necessities. Fit all essentials into one place in a simple and easy zip clutch that doesn't forego style. Available at clarevivier.com.
This paisley scarf will complement any outfit while keeping you comfy cozy with its soft-to-the-touch velvet material. Available at Anthropologie.