Never forget reusable bags at home again! BagPodz is a green and convenient new solution to the old problem of using and storing reusable bags. It's compact while also holding enough bags to cover a whole shopping trip's worth of groceries.
Don't clutter your vehicle with bulky bags – BagPodz is a whole new way to have all the bags you need conveniently self-contained in one small item.
They're compact enough to keep stored away in your car's cup holder, cubby, console, or glove box so they're ready to use anytime!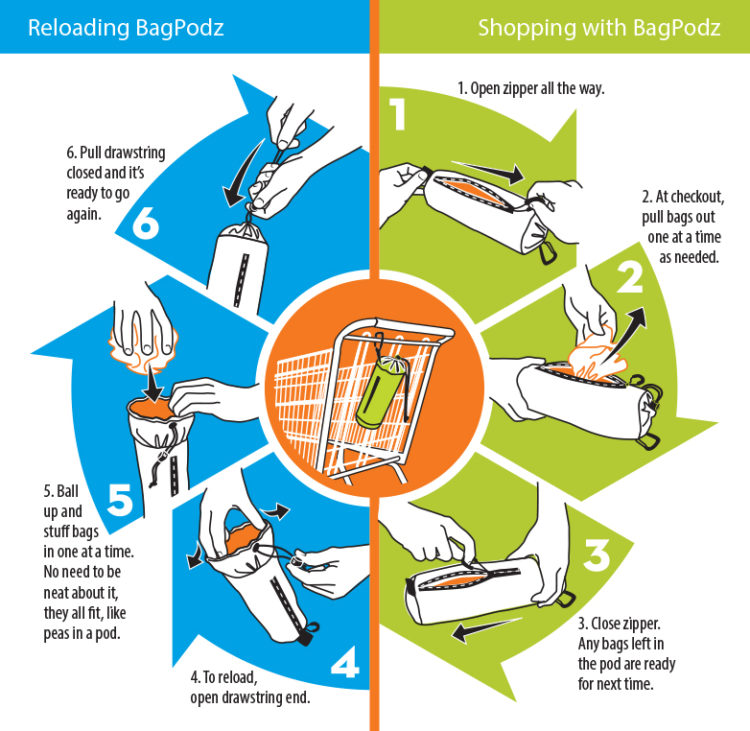 Say GOODBYE to reusable bag clutter in your car, kitchen pantry, and inside your grocery cart. Available with 5 and 10 bag options, you'll have all the reusable bags needed for an entire shopping trip in one compact and convenient 'Pod'.
The bags are water repellent and fully machine washable ensuring they're kept clean after each trip. And the bags are made from incredibly strong RipStop Nylon. Each bag can easily hold up to 50lbs.
BagPodz makes your shopping trip a breeze and takes up zero cart space while shopping! Just clip it to the shopping cart and go! And the bags always come out one at a time – neatly and quickly – like peas from a pod.
BagPodz are made of a Bluesign® certified material that's low impact, eco-friendly, and sustainably produced while adhering to the most stringent safety standards.
This eliminates harmful substances right from the beginning of the manufacturing process and sets and controls standards for an environmentally friendly and safe production.

Did you know that more than one million non-degradable plastic bags are used worldwide every minute? BagPodz is an easy solution that helps eliminate this terrible burden on our environment.
For more information please visit https://www.bagpodz.com/