Capturing personality and beauty in just a glance, professional pageant headshots speak volumes about a pageant contestant's ability to succeed and impress the judges, according to image consultant Mary Rohweder.
A pageant headshot must also be appropriate for the pageant system and age division, she says. Although Miss contestants can get away with a beautiful smile or glamorously demure pout, Teen contestants are usually best smiling with an upbeat and youthful energy. Here are Rohweder's top choices for photogenic teens in the upcoming Miss Teen USA pageant, along with tips on how to take a successful pageant headshot!
1. Miss North Dakota Teen USA Audra Mari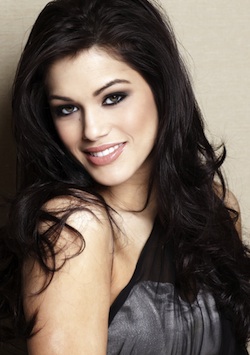 The gorgeous Miss North Dakota Teen USA, Audra Mari, truly appears at the peak of her beauty. Her light eyes appear to glow with the black kohl liner and soft gray eye shadow. The eye makeup complements the silver top with the sheer black draping. Her dark brunette waves pop with her light skin. Her lips seem as if they were naturally that color. Audra's natural pose – with her head turned toward her forward shoulder – embraces her beauty. When you find the perfect color combination that works your eyes and skin tone, the world will not be able to take their eyes off you.
Headshot Tip: Have a professional guide you towards the right colors to achieve unsurpassed beauty. Your natural beauty will truly pop when you find the perfect colors for you.
2. Miss Arizona Teen USA Molly Argue

The lovely Miss Arizona Teen USA, Molly Argue, embodies the classic Teen pageant headshot. Her smile is just radiant – she comes across as a genuine girl that you want to be friends with! Her photo is very age-appropriate: her eyes are illuminated, her head is tilted to the side in interest, her makeup is natural, and her chocolate brown waves are tousled over her shoulder. Molly also dressed to perfection for a pageant headshot: her bright colored top is dramatic but not distracting, and her sparkling earrings bring attention to her face.
Headshot Tip: Overall, the best outfit for a pageant headshot is a solid top or dress with dramatic earrings. Have fun in your choosing earrings by incorporating larger earrings with lots of sparkling crystals and gems.
3. Miss Indiana Teen USA Jessica Buch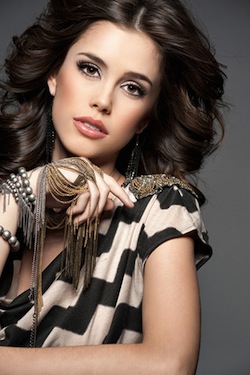 The stunning Miss Indiana Teen USA, Jessica Buch, appears as a natural model here. Clearly experienced in front of a camera, she frames her upper body beautifully with her draped bracelets over her hand and other arm at the edge of the frame. Although dangling earrings is the classic technique for bringing the spotlight onto the face, Jessica updates the concept by resting her wrist – covered in dramatic jewelry – under her chin. Her expression is pensive and focused instead of airy and open like a typical Teen smile. Her makeup is applied in natural tones and her hair is curled away from her face.
Headshot Tip: Dare to be different. Take risks when posing for pageant headshots in order to stand out in your photo. You may find yourself in your element with an inspired angle or pose.
4. Miss New Hampshire Teen USA Annie Reed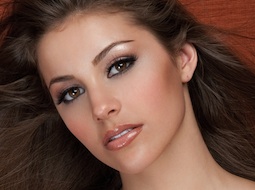 The natural Miss New Hampshire Teen USA, Annie Catherine Reed, captures an earthy mood in her photo. The orange backdrop explodes with energy that is complemented by the soft hair movement. Her understated expression is brought to life with vibrant eyes. Her makeup, in warm and nude tones, demonstrates that she is secure in her own skin. Annie's pageant headshot expresses a subtle but fierce energy and confidence.
Headshot Tip: Relax during the photoshoot. You don't need to try too hard in order to take a beautiful picture. Annie appears so comfortable that she could be wearing Uggs, a hoodie, and her favorite jeans for all we know. Beauty is much deeper than what the eye can see, so strive to feel as good as you look when modeling.
5. Miss South Carolina Teen USA Keyla Childs

The sassy Miss South Carolina Teen USA, Keyla Childs, expresses teen attitude at a fierce angle. The overall impression I get from this photo is "diva." Her eyes and lips send vibes that this is a girl who knows what she wants and takes it. Keyla comes across as a contestant who would definitely rock the stage during the pageant.
Headshot Tip: Find and embrace your inner diva. It is your time to be a supermodel in front of the camera, so make the most of the opportunity!
6. Miss Idaho Teen USA Claire Hollingsworth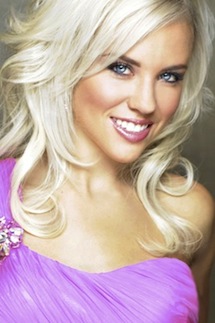 The girly Miss Idaho Teen USA, Claire Hollingsworth, is a picture of youthful femininity. She is pretty in pink with clear blue eyes, light blonde hair in soft curls, peach cheeks, and glossy pink lips. Her piercing eye contact truly grabs the viewer's attention. Claire's makeup is noticeable but makes her appear awake and energized.
Headshot Tip: Noticeable makeup should be appropriate for your age division. Smoky eyes would have made this picture too demure. Her soft eyeliner, flushed cheeks and bright pink gloss are perfect for a Teen.
7. Miss Connecticut Teen USA Samantha Sojka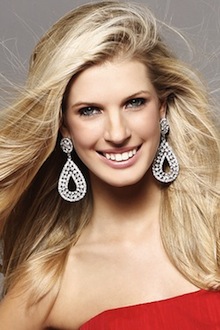 The bombshell Miss Connecticut Teen USA, Samantha Sojka, expresses a lot of confidence in her pageant headshot. Her choice of wearing red exudes strong confidence. Her assured smile and open eyes make me believe that she is completely ready to rock the national stage. Samantha has beautiful sparkling earrings that really pop against her blonde hair. Her hair movement gives the photo a sense of dynamic energy and glamour.
Headshot Tip: Put the fan on high and let your hair blow in the wind for total glamour! Make sure that the hair is out of your face to keep the spotlight on you.
8. Miss Michigan Teen USA Taylor Sherman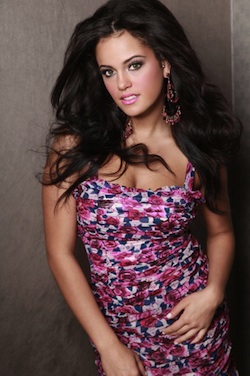 The elegant Miss Michigan Teen USA, Taylor Teresa Sherman, breaks the traditional rules of headshot photos beautifully. Instead of wearing a solid color, she wore a rose print dress that accentuates her body. She also went for a soft expression instead of a beaming Teen smile. However, Taylor is doing everything right – her pose is strong but natural, her eyes are making perfect contact, her facial expression is relaxed, her dramatic earrings keep the primary focus on her face, and her hair has beautiful movement.
Headshot Tip: Wear what looks good to you. No matter what anyone else thinks, your confidence and beauty will soar if you love how you look.
9. Miss Main Teen USA Alexis Tanisha-Marie Mcilwain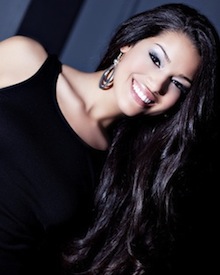 The exotic Miss Maine Teen USA, Alexis Tanisha-Marie Mcilwain, appears comfortable with her beauty. With simple metallic earrings and a basic black tank, she keeps the focus on her shiny waves, confident smile, and enchanting eyes. She understands that what wear doesn't define your beauty. Her minimal wardrobe choices reflect Alexis' strong belief in herself and her beauty.
Headshot Tip: Remember that a pageant headshot is about you. While you should give thought to clothing and jewelry, those are not the most important factor – you are!
10. Miss Texas Teen USA Danielle Doty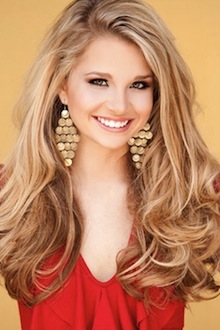 The radiant Miss Texas Teen USA, Danielle Doty, appears truly happy in her pageant headshot. With a cute smile and bright eyes, she reminds me of sunshine. True to Texas, Danielle has soft volume and beautiful texture to her best feature – those sun-kissed waves. The gold earrings pop with her highlights and bright top.
Headshot Tip: Your hair is your best accessory in a pageant. The right highlights will give dimension and subtle volume to your hair.
Whose Miss Teen USA Pageant headshot is your favorite? How do you take the perfect headshot?