Beautiful skin is the best accessory you could ever have. Do you need a seven step facial regimen? How early should you start worrying about an anti-aging treatment? Can you really reverse the clock in your 40s? Over-experienced beauty editor Contessa Schexnayder of Fashionista is here to answer all your skin-related questions. With nine years experience in the beauty industry working with the likes of Nars, MAC, Bobbi Brown, Blue Mercury and Space NK, I'll believe her.
20's
In your twenties skin is in its prime. Effortlessly glowing, you can still probably smile without wrinkles forming, realistically, and not looking through a super-magnified mirror. Although you are more than likely not seeing any obvious damage you might be causing to your beautiful skin, no worries, the damage in the making is all well and alive;  many outside elements–stress and environment included–have the potential to add unwanted years to the aging process. Don't jump the gun and race to the botox chair or splurge on any $300 anti-aging moisturizers, just embrace some good skin habits. With this in mind, be sure to:
Be mindful of hydration, even if your skin is oil prone.
Wash your face before you go to bed. Experiment with oil cleansers; they're great for taking off makeup and don't dry out your face.
Don't exfoliate everyday unless you are seriously breaking out. Once a week is more than enough.
Wear a sunscreen.
If you are breaking out, make yourself believe two things (although you probably want to do the exact opposite): don't touch and relax with the products.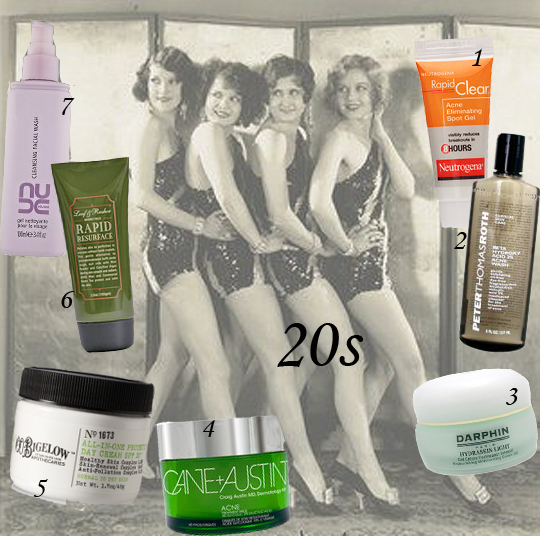 1. Rapid Clear Acne Eliminating Spot Gel $6.99
2. Beta Hydroxy Acid 2% Acne Wash Peter Thomas Roth $35
3. Darphin Hydra skin light gel cream $60
4. CANE+AUSTIN Acne wipes $65
5. SPF C.O. Bigelow All-in-One Protective Day Lotion SPF 25 $20
6. Leaf and Rusher Rapid Resurface $50
7. Nude skincare cleansing facial wash $24
30's
By now, this may ring familiar: When you make an expression, those pesky lines aren't going away as swiftly as they once did. You might also be noticing your skin isn't as radiant as it once was. The prime reason for the dullness in your complexion is that your dead skin cells are not naturally shedding as quickly. To counter this, you should:
Attempt to exfoliate twice a week.
Try using an alpha hydroxy acid (AHA) based mask or a physical exfoliator.
Glycolic peels are great, but should be done in moderation, Schexnayder warns.
Use a serum with a vitamin A or retinol for lackluster skin.
Make sure your moisturizer has an SPF and is anti-aging. Don't forget your neck and chest! Apply an SPF 25 or higher on these highly-sensitive areas.
Avoid the obvious leather look and seriously stop smoking and laying in the sun.
1. Eve Lom cleanser $75
2. Korres Wild Rose Moisturizer $35
3. Skinceuticals C E Feurlic Serum $144
4. Elemental Herbology Facial Glow Mask $65
40's
In this stage of life, skin may not possess the same buoyancy, featuring deeper lines and wrinkles with less elasticity. This is because hormones are beginning to slow down and are not being produced with as much frequency. This is also the time when you will begin to see bad habits you once had coming to the surface. A lot of companies miraculously claim that they "cure" maturing skin, but you can't reverse the signs of aging. What you can do is keep your skin bright and hydrated by:
Massaging moisturizer into the skin gently in an upward motion will rid you of excess puffiness around the cheeks and eyes.
If you notice sunspots or discoloration, try exfoliating three times a week.
Try to stay away from gel-based cleansers because they can be dying; if it produces bubbles, keep it off your face.
If your skin looks tired and dull try a richer peptide-infused face cream in the morning and oil at night–rose and argan.
Use SPF on your face neck and chest, and consider investing in a neck cream that contains retinols or glycolic acids.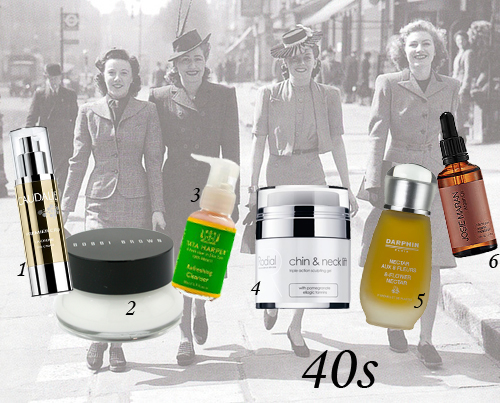 1. Caudalie Premier Cru $150
2. Bobbi Brown EXTRA SPF 25 Moisturizing Balm $88
3. Tata Harper Refreshing Cleanser $50
4. Rodial Chin and Neck Lift $98
5. Darphin 8 flower nectar $150
6. Josie Maran 100% Pure Argan Oil $48
What are your best face-forward skinscare products and secrets?