When I think of the Kardashian sister style, I think tight-fitted, sexy wear. So who better to team up with the Kardashians than Bebe? Yesterday, the Bebe-Kardashian line debuted at the Style 360 subset of New York Fashion Week with designer herself, Kim Kardashian, modeling one of the looks.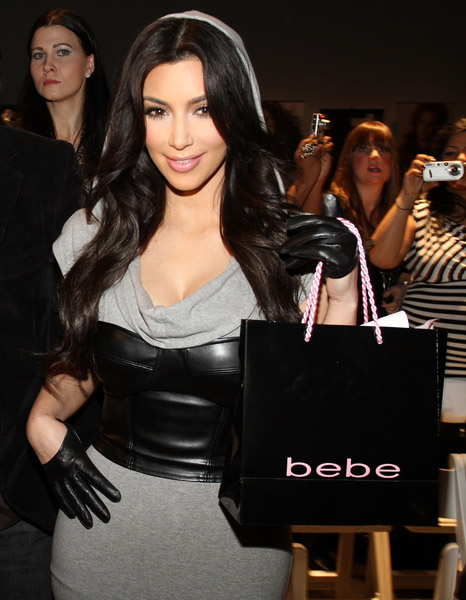 Now we can dress like the Kardashians without having celebrity bank accounts!
Kim Kardashian was the only sister to witness the debut. She fashioned a hooded, heather gray stretch jersey dress and black leatherette corset that made sure to show off her famous curves. Her outfit, or look No. 2, was designed by the Bebe brand's in-house team with thoughts from Kim, Khloe and Kourtney.
"The message was unmistakable: 'Yeah, we'd wear this stuff,'" according to The Los Angeles Times.
Since the show took place blocks across town from Bryant Park, the most notable celebrity in the audience was Jenni "J-Woww" Farley of "Jersey Shore." She sat front row wearing a turquoise Ed Hardy T-shirt dress and glittery tights.
"Anyone with even a passing familiarity with the Kardashian troika – from their E! series "Keeping Up With the Kardashians," courtside appearances at Los Angeles Lakers games (Khloe recently wed Laker Lamar Odom) or the pages of such celebrity-centric glossies as People or US Weekly – could have seen their personal style reflected in the 25 looks that came down the catwalk," according to a spectator from The Los Angeles Times.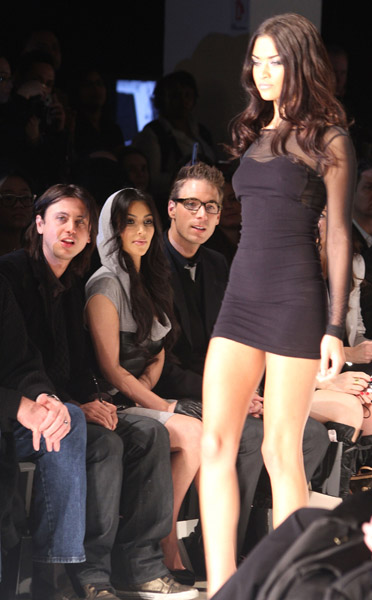 The models were decked out in form-fitting stretch jersey, skinny jeans, one-shouldered dresses and rompers that show off the legs, according to The Los Angeles Times.
"Yes, the one-shouldered dress, that's very me," Kim Kardashian said backstage after the show. "The baggier blazers and rompers are very Kourtney, because she's more bohemian, and this," she said pointing to the dress she was wearing, "is one Khloe helped design. She really wanted a hoodie and she wanted something that was wearable and stretchy."
Kim Kardashian also noted that the sisters wanted the fabrics to be stretchy because of the different body types. They wanted them to fit all of them.
About the Kardashian: The Kardashian sisters are best known for their social life and roles on the E! reality show Keeping Up with the Kardashians. Their fame arose from their high profile parents. Their father was attorney Robert Kardashian, best known for being O. J. Simpson's lawyer during his murder trial. Robert died of cancer in 2003. Their mother, Kris Jenner, who divorced Robert in 1989, married former Olympian Bruce Jenner in 1991, according to Wikipedia.