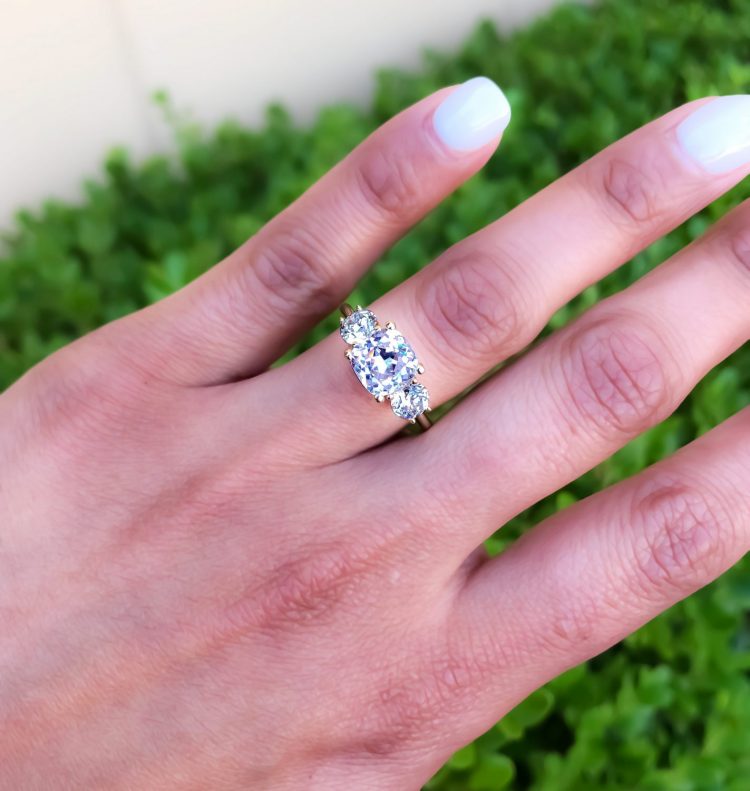 Prince Harry and Meghan Markle's engagement was one of the most highly anticipated engagements of 2017. Meghan's stunning 3-stone diamond dazzler has been one of the hottest engagement ring trends of 2018. The custom ring is not only beautiful, but holds a great deal of sentimental value as well, including two diamonds from Princess Diana's personal collection.
While we all can't get our hands on a royal ring, you can still sparkle like Meghan Markle with your own three-stone inspired engagement ring. Below are several steps one must follow when designing a ring with a family heirloom. 
Get the Family Member's Approval
First and foremost, it's essential you have the family member's approval before using an heirloom that's been passed down. Since the item is being passed down, you may assume that you already have the green light, but if you plan to personalize and create a custom ring of your own, it's better to be safe than sorry. The last thing you want is to start a family feud before the proposal!
Check the Diamond Condition
After you get permission to use the ring, you'll want to take the ring to a trusted jeweler to check the condition, as well as get it deep cleaned. To prevent future issues, a master jeweler will be able to identify any wear and tear that the ring may have inherited over the years – making the ring look almost brand new!
Know the Story Behind the Ring
It's a good idea to learn about the history behind the ring before you start making changes. There may be certain aspects of the ring that you wish to repurpose and use, which is essential to know if you decide to make custom changes. Once you make changes, there is no going back to the original ring. Keeping original parts of the ring is a unique way to keep that family member with you at all times.
Customizing Your Ring
When the time finally comes to create your perfect ring, it's crucial that you go to a jeweler you trust will do a phenomenal job. Understanding exactly what you want, will help you feel confident in your decision in custom making the ring. The jeweler may offer tips or advice to help create your vision, however, at the end of the day it's your ring – do what you and your spouse love.
About the Author
Robbins Brothers, The Engagement Ring Store specializes in proprietary and designer engagement ring settings and loose diamonds. The company also carries an extensive selection of wedding bands, promise rings, anniversary bands, three-stone rings, earrings, pendants, and bracelets. To learn more about Robbins Brothers, The Engagement Ring Store please visit their Scottsdale store at 7435 E. Frank Lloyd Wright Blvd or online at www.robbinsbrothers.com.