After a summer of bright colors and complex prints, fashion goes to the dark side for fall beauty, from oxblood lips to metallic sheens.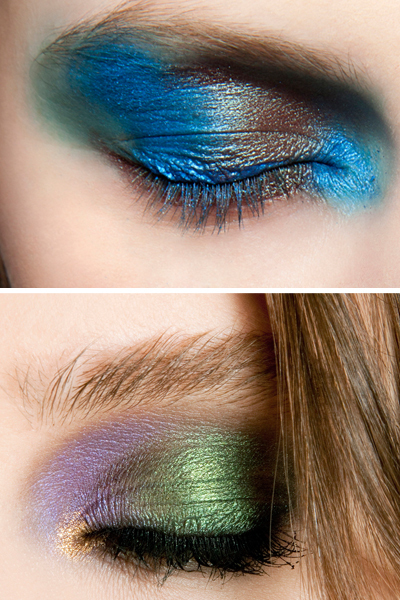 The color-blocked eye fall beauty trend. 
Black Cherry Lips
Seen at: Rochas, Christian Siriano, Viktor & Rolf, Bottega Veneta, Nina Ricci, Gucci, Basso & Brooke

Cherry lips at Gucci
Wine-stained lips popped out against bleached-out brows at Gucci, while Rochas lead makeup artist Lucia Pieroni for Clé de Peau paired burnt red pouts against basically bare faces. "The inspiration is a raw, earthy girl—but for a punch, I stamped on a blackberry lip," said Pieroni, who used Clé de Peau lipstick R10 for the stand-out shade.
Blunt Bangs
Seen at: Calvin Klein, Antonio Berardi, Marni, Versace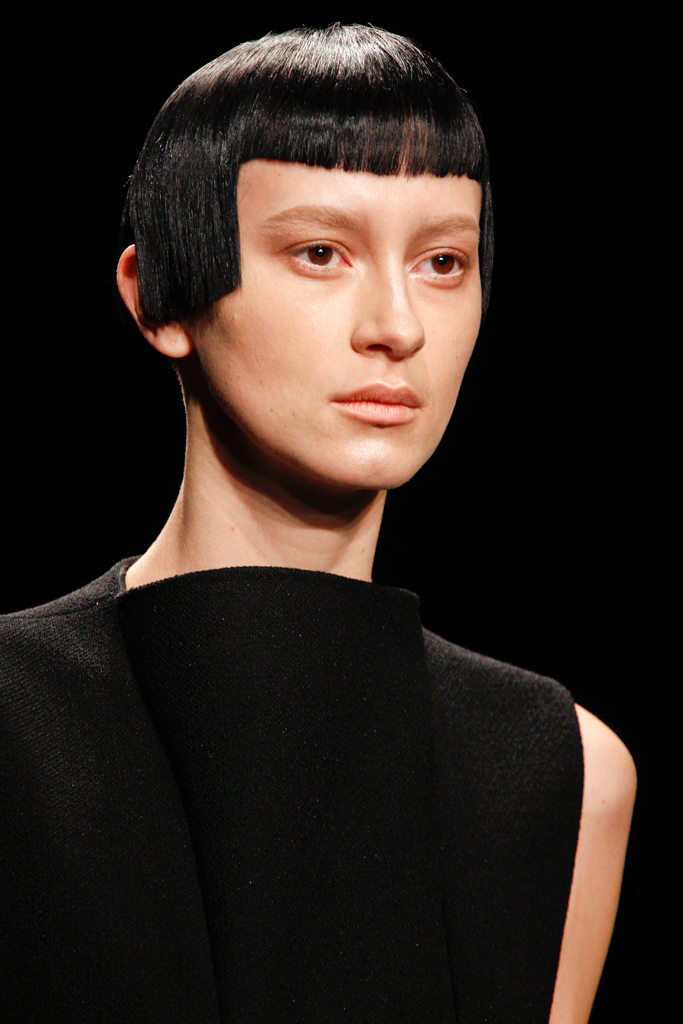 Blunt bangs at Calvin Klein.
Reminiscent of a '20s flapper, these short, sharp bangs were all the rage this season, from minimalist Calvin Klein to flamboyant Versace.  YouBeauty Hair Advisor and Calvin Klein lead stylist, Guido, says bluntly cut bangs are evocatively flirtatious: "The severity of the line focuses the attention on your eyes and face," he says.
Color-Blocked Eyelids
Seen at: Prabal Gurung, Prada, Roberto Cavalli
Bold strokes of color leapt off lids and the runways at Prada, Roberto Cavalli and Prabal Gurung. M.A.C. Cosmetics lead makeup artist, Charlotte Tilbury, layered M.A.C. Eyeshadows in Delft and Freshwater over aquamarine eye pencil to achieve a peacock-like slash of turquoise. For a more realistic twist on the trend, try painting a line of vibrant color over the lashline for a striking night out on the town.
Metallic Nails
Seen at: Behnaz Sarafpour, Alexandre Herchcovitch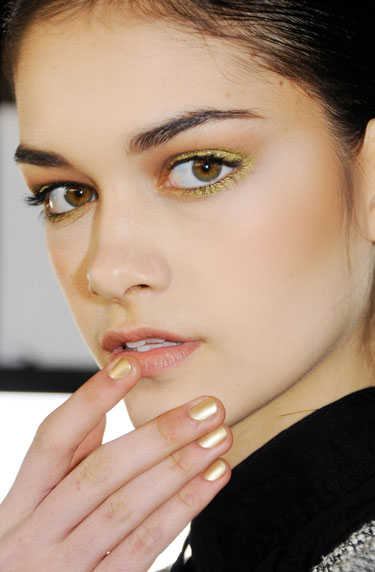 Metallic nails at Alexander Herchcovitch
"Steely surfaces and posh gold and silver manicures give an industrial, urban ice queen sheen when paired with crisp silhouettes," said CND cofounder Jan Arnold, who created the metallic nail looks at Behnaz Sarafpour and Alexandre Herchcovitch—the latter of which was achieved with two coats of CND Colour in Gold Chrome for a "Midas Touch" manicure.
Braided Headbands
Seen at: Fendi, Mulberry, Emilio Pucci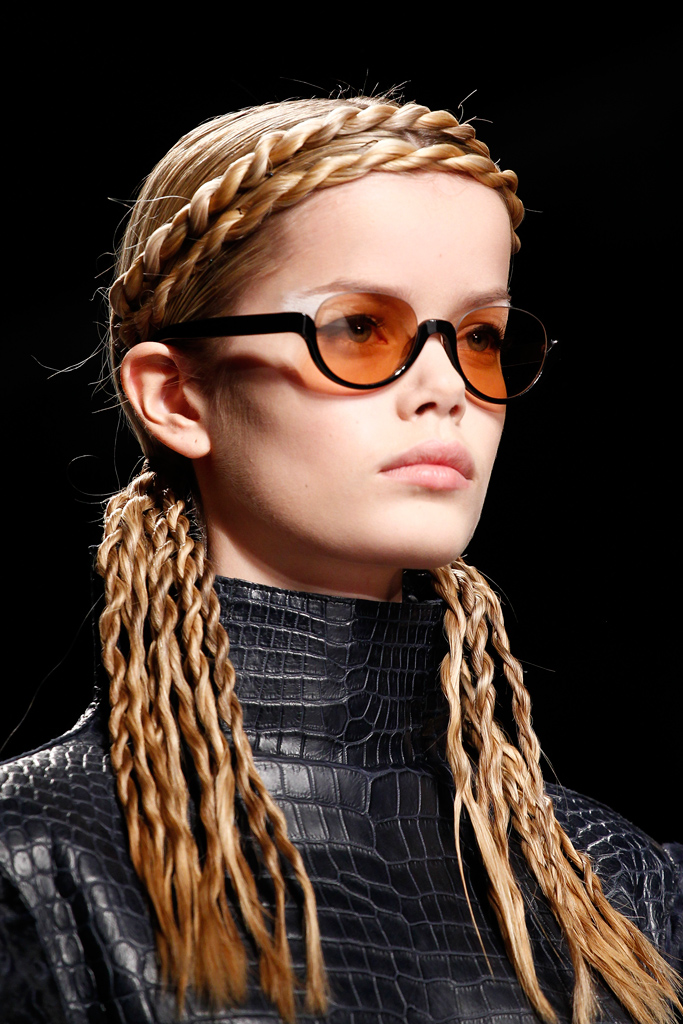 Braided headbands seen at Fendi
This classic style can turn weekend casual, black tie formal or anywhere, anytime. "What's great about braids is you can go from workday to workout in them," says Guido. Braided milkmaid headbands held elegance at Emilio Puccio, where the rest of hair flowed freely down, while an urban tone was felt at Fendi, where it was paired with a pony of small braids.
Photos: Style.com