Airbrush tanning – also commonly referred to as spray tanning – is the fake-bake tan at its best, letting sun worshipers achieve the appearance of healthy, radiant skin in any shade, from a subtle glow to a tropical bronze, while eliminating the harmful effects of UV rays.
However; it's important to take into consideration the recent study conducted by ABC News before you undergo any spray tan treatment. Basically, the study found that DHA (dihydroxyacetone), the chemical ingredient that darkens skin in tanning procedures, including spray/airbrush tans, is not meant to be inhaled. While I assume most of you don't inhlale gusts of tanning solution during spray treatments, it can still get into your system.
To quote what Toxicologist and Lung Specialist Dr. Rey Panettieri of the University of Pennsylvania's Perelman School of Medicine told ABC News:
"The reason I'm concerned is the deposition of the tanning agents into the lungs could really facilitate or aid systemic absorption—that is, getting into the bloodstream. These compounds in some cells could actually promote the development of cancers or malignancies, and if that's the case then we need to be wary of them." 
But for some, beauty is pain and pain is beauty; if you're still determined to have that bronzed glow, these sunless tanning boutiques in the Phoenix metropolitan area will give you a tan in 30 minutes or less that will last a week, plus: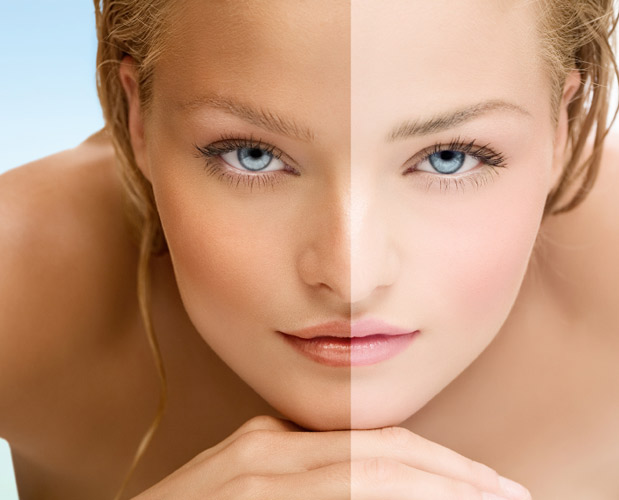 NORTH SCOTTSDALE
Designer Shades  Get a flawless all-over tan in less than 15 minutes at this North Scottsdale tanning and teeth whitening boutique. Owner Chris, who has consulted with the likes of celebrity spray tanner Julie Nostrand of South Seas Skincare, confers with each client for his/her desired color before treatment and sees through to the result of a perfect application. Be sure to take the PH balancing/tan extender before the spray to ensure the most even and best results.
18221 N. Pima Road, Suite H-110 85255
480-703-0331, getsunless.com
Desert Bronze Tanning  This North Scottsdale tanning boutique features both custom airbrushing and mystic tan. Shop while you're there for handmade jewelry from India and Havaianas flip flops to complement your just-came-from-the-beach tan. Note: The airbrush tan is by appointment only.
20831 N Scottsdale Road Ste 101
480-483-2024, desertbronzetanning.com
OLD TOWN SCOTTSDALE
The Bronze Bar  Though new to the Scottsdale tanning scene, The Bronze Bar has made quite an impact. Located in Old Town, owner Laura is known among her customers for being friendly, laid back and professional. In order to achieve your golden glow, a personal consultation will help you pick the perfect color from a shade range of 1 to 7, to best complement your natural skin tone. Don't forget to add a scent to the color to ward off any post-tan smell!
7737 E Indian School Road 85251
480-310-3033, thebronzebarscottdale.com
GREATER SCOTTSDALE AREA
The GLO Studio Keep your skin looking "toned, firm, and youthful," while achieving the ultimate deep sunless tan you desire at the GLO Studio. This Scottsdale mainstay uses solutions made with the most customized levels of 100 percent organic DHA and 95 percent all natural ingredients.
4413 N. Saddlebag Trl., Ste 4
480-874-8311, 
theglostudio.com
BILTMORE
Camelback Tanning
 The family owned and operated Camelback Tanning offers both traditional tanning beds and UVA-free spray tan options. Friendly customer service, a comfortable environment and slick airbrushing skills have kept Valley clients loyal for the past 17 years. A single custom airbrush tanning session lasts up to five to seven days.
3736 E. Indian School Road
602-957-8266,
camelbacktanning.com
PHOENIX
Bronze On The Glo  Bronze on the GLO is a luxury, spray tanning salon specializing in custom, airbrush spray tanning in the Metropolitan Phoenix area. The breakthrough micro-nutrient technology delivers a potent blend of vitamins and antioxidants to boost the skin's inherent "just off the beach" glow.
1145 E. Glendale Road
602-369-0203, bronzeontheglo.com
GILBERT
Celebrity Tanning The Celebrity Tanning Mystic Tan Booth™ delivers a customized sunless tanning spray based on your body size, skin type and desired color. The booth utilizes a spray-on process designed to deliver a glow just after one session for a naturally sun-kissed tan.
29 N. Val Vista Dr. #104
 85234
480-507-8266, celebritytanning.com
Plus other locations across the Valley.
CHANDLER
Planet Beach  Choose from a Mystic Spray, Autobronzer or Airbrush. The Mystic Spray utilizes MagneTan™ technology to ensure streak-free sessions and natural-looking color each and every time, while the Autobronzer gives you a full-body spray in just under a minute under the guidance of voice commands. Finally, the Airbrush option is where technicians directly apply a personalized glow.
1840 W. Chandler Blvd, Suite 8 85224
480-821-4826, planetbeachchandler.com
GLENDALE
Tan Factory  Perfect for that special event or quick, natural-looking color, the UV-free spray tan at Tan Factory provides an immediate, bronzed tan in 60 seconds or less. User-friendly, the booth is equipped with an automated voice, letting you know when to turn and time awaited until the final count-down.
18589 N. 59th Avenue
tanfactoryaz.com
TEMPE
The Platinum Spray Tan  Customers can enjoy a customized tanning experience within the comforts of their own home or office, or by visiting Platinum Spray Tan's Tempe studio. In 20 minutes or less, a technician will use a natural, anti-oxidant micro-nutrient solution imported from Europe to create your golden glow. Previous customers have also noted flexible scheduling and price.
1969 E Broadway Road, 85282
480-686-6548, ThePlatinumSprayTan.com