Any kind of awards show with A-list celebs will make me stop everything and anything I'm doing, so this year's 63rd Annual Primetime Emmy Awards hosted by "Glee" star Jane Lynch at LA's Nokia Theatre was definitely a just cause to forego my Sunday night to-do list.
Lynch opened the show with a musical number that featured celebs such as "Star Trek" star Leonard Nimoy, Randy Jackson and Jon Hamm, singing about TV and awards shows.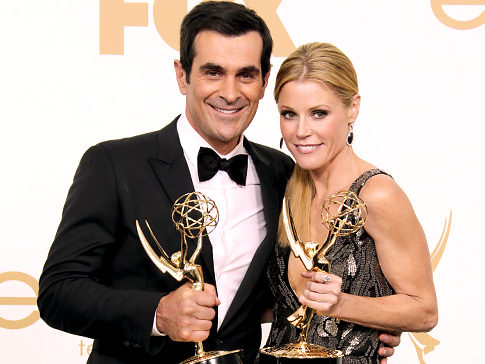 Ty Burrell and Julie Bowen celebrate their wins for 'Modern Family' at the 2011 Emmy Awards.
The big winners were made known: "Modern Family" gathered up five awards including best comedy for the second consecutive year with honors to onscreen husband and wife duo Ty Burrell and Julie Bowen. "Welcome back to the 'Modern Family' Awards!" Lynch joked when the show came back from break. "We decided to throw them into the drama category just to see what happens." "Mad Men" also received its fourth consecutive Emmy for best drama, staving off competition from the HBO drama "Boardwalk Empire."
Meanwhile, the PBS-aired British drama "Downton Abbey" bested "Mildred Pierce," on HBO, for best miniseries or TV movie. Presented by the one and only Charlie Sheen, The Best Actor in a Comedy award went to Jim Parsons of CBS' "Big Bang Theory," a two-time winner, while first-timer Melissa McCarthy from CBS' "Mike & Molly" won the Best Actress in a Comedy award, along with a bouquet of roses and a tiara. "Wow, it's my first and best pageant ever!" she said.
In Drama, "The Good Wife" star Julianna Margulies was named Best Actress and Kyle Chandler won Best Actor in honor for his work as a high school football coach in "Friday Night Lights," which also won the drama writing award granted to Jason Katims. Margo Martindale earned the Supporting Actress in a Drama award for FX's "Justified." Peter Dinklage from HBO's "Game of Thrones" won the Supporting Actor in a Drama Emmy.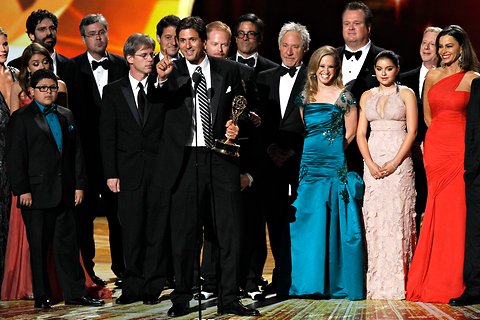 CBS' "Amazing Race" earned the Outstanding Reality Competition Emmy. Comedy Central's "The Daily Show With Jon Stewart" got a writing Emmy and its ninth consecutive award for Outstanding Variety, Music or Comedy Series.
Check out the full roster and winners here.
What was your favorite or most surprising moment of this year's Emmys?