Photography by Carlos Arturo Velarde
Not many people consider the cause and effect relationship between skincare and overall sensory wellness. Mass factory production of fragrance-free topical creams that are LITERALLY the same thing, just with a different label on them, have turned our skincare into a "routine" and a tedious everyday process.
However, two Arizona businesswomen wanted to add a bit of color to the monotonous and somewhat dull skincare world. What started as an idea at the end of 2019 by founders Ginalyn McNamara and Lindsay Cruz has turned into the unique USA made blend of products, that is, Mood Botanics.
After years of developing other brands' marketing strategies, product formulas, campaign photoshoots, and nearly everything else under the sun regarding the launch of a new business, McNamara and Cruz wanted a product of their own and one that offered an extra layer of benefit to its users.
I've been in the beauty, lifestyle, and wellness industry for years. I've worked with many organizations, bringing them from a simple concept to an executed product on the market.

When you are always considering OTHER people's perspectives and desires, stress takes a toll on your daily mood. Like many of us, every day, our spirits and mood can fluctuate from being happy, sad, angry, envious, and so forth.

That's where my idea for Mood Botanics came from, why not develop a product that helps our skin and affects our mood through aromatherapy?


– Ginalyn McNamara, Co-founder of Mood Botanics
From then on, McNamara worked with top industry chemists here in Arizona to formulate paraben-free, cruelty-free, organic, non-toxic, and sustainable mood-boosting morning and night face oils.
The first thing you will notice is the "Magical 2 Tier Formula" that reminds us of a lava lamp. The bright colors and separation of the essential oils with the natural ingredients look like no other product on the market today.
Now you may be thinking, well, those colors are additives, and adding oils onto your face will make a user's face break out!
Well, we are not saying your statement is incorrect, but it IS invalid. Mood Botanics bi-phase system is designed to open and purify the pores while the oils help ease inflammation, hydrate and soften the skin.
According to clinical research, essential oils have anti-inflammatory, anti-bacterial, and collagen-boosting properties. You essentially have to use oils to break down different oils, if that makes sense?
The colors come from all-natural ingredients like grapefruit, eucalyptus, turmeric, rose oil, and other botanicals.
The combination of essential oils and natural botanicals leave a euphoric and enticing aroma on the skin. Put a few drops on your cheekbones, hands, and neck after your traditional facial cleansers/lotions, and you are all set!
Much like the smell of fresh cookies or your favorite perfume can boost your mood, these products merge aromatherapy, sensory wellness, and potent natural ingredients all into one bottle.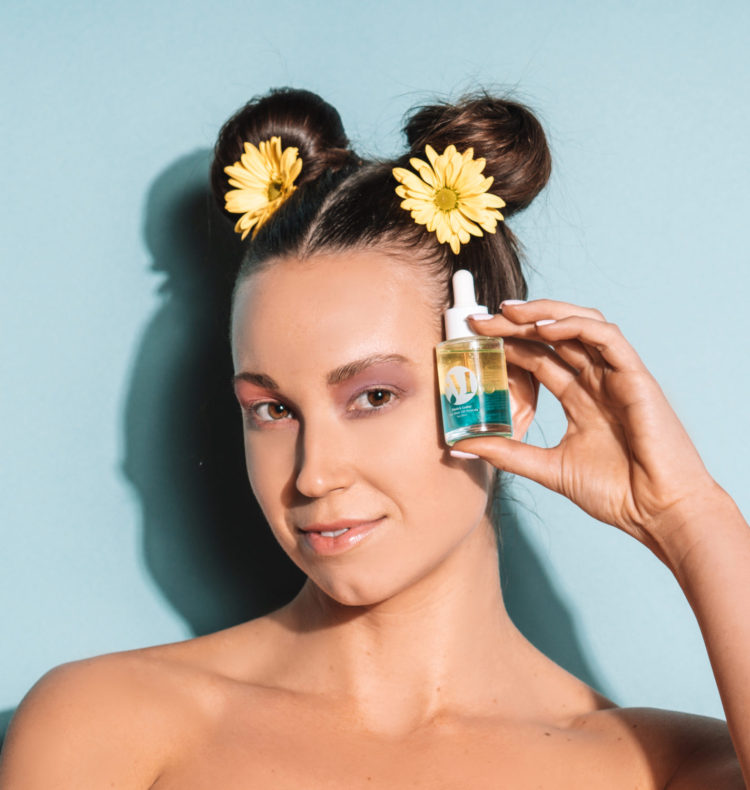 Mood Botanics is mean't for all day and night sensory wellbeing.
The AM Face Oil is their clarifying, acne-fighting formula that detoxifies your pores and wakes your skin up for smooth, refreshed, problem-free skin every day.
This Biphase serum is created with dual tiers of natural essential oils, botanicals, B Vitamins, and caffeine to inhibit acne-causing bacteria's growth and boost collagen production for more transparent, younger-looking skin—don't forget to shake before use!
Enriched with Pink Grapefruit and Eucalyptus essential oil extracts, this serum features a refreshing sweet citrusy scent with a hint of minty goodness that's sure to lift your spirits every morning.
The PM Face Oil allows your skin to rest and rejuvenate as you settle down for a relaxing night's sleep. The anti-aging PM skin serum reverses the stresses of the day and helps your fatigued skin cells repair and rebuild themselves for skin that exudes youthful radiance in the morning.
Intensely hydrating, this collagen-boosting Bi-phase skin elixir is loaded with antioxidants and anti-bacterial properties that make your skin soft, supple, and radiant.
Lightly scented with natural rose-hip oil, this serum fills the air with a calming scent sure to help you relax your muscles and relieve anxiety to enjoy a more profound, restful slumber every night.
If you want to say goodbye to drab and hello to FAB, head over to Mood Botanics and get yourself some of these AM and PM face oils. Support your locally sourced products that were conceptualized right here in Arizona and the USA!
For more information or to purchase some Mood Botanics AM and PM Face Oils, visit: https://www.moodbotanics.com/