You've worked out, ate healthfully and picked out the cutest bikini. Now, it's time to show it off. Take a cue from some of these celebrities who know how to flaunt their bikini bodies in the best way for the camera.
If you're taking a selfie, borrow this tip from Kim Kardashian, who always happens to look gorgeous in every photo. Hold you camera up to a mirror, tilt it so it creates an illusionary angle and shoot yourself in a room with an interesting background.
Next time you're hitting the pool with friends, have someone snap a shot of you in action. This pic of Emmy Rossum definitely shows she's having a fun summer. Make sure to point your toes like Emmy does to make your legs look long and lean, and keep your arms and back straight for taut abs.
You can never go wrong taking a tip from a supermodel. Hold your camera by your shoulders and bend your knees like supermodel Heidi Klum to flatten your belly for an overall slimming effect.
Grab a couple disposable cameras before you head out to the beach or pool with a friend. Sometimes the best shots are candid, or at least ones that look like they are, like this photo of Rihanna.
While standing up straight, elongate one leg like Miranda Kerr did for a slimming effect, while turning your face toward the light and tilting your head so the wind hits your hair.
Turn Away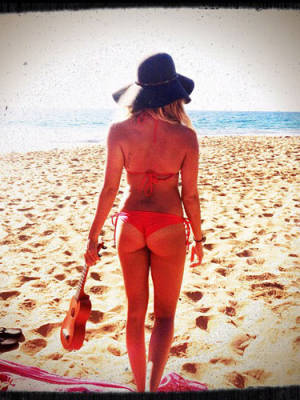 Ashley Tisdale looks gorgeous and relaxed in this beach photo. Frame the photo overlooking some scenery, while you arch your back slightly to make your butt pop and bend one leg slightly to visually slim your gams.