Ever wonder where those little icons of pizza, flowers or hearts that pop up on email, SMS and Twitter come from?
The latest way to express yourself via technology is through Emoji, a system of picture characters, or emoticons, first introduced in Japanese electronic messages and webpages. The characters are used just like your standard smiley face emoticon, but a wider range of expressions are available (like your pizza, flowers or candy-colored hearts).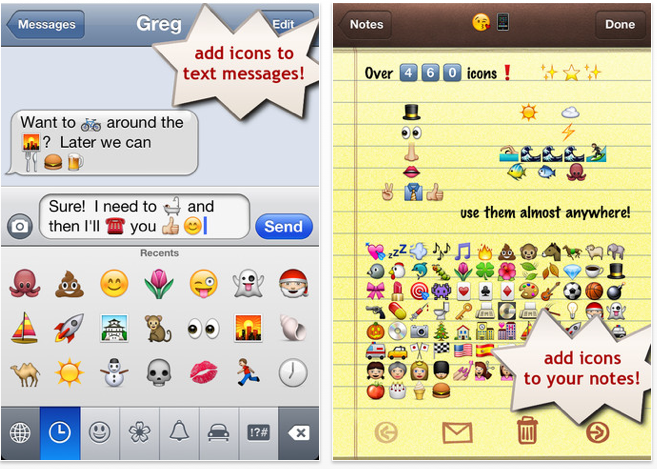 Although the app is available for iPhone, iPad and some Android platforms, most non-iPhone/iPad users cannot see the icons, since the app simply enables the Emoji keyboard that is already present in the software. To most other platforms, the Emojis will show up as jibberish.
You can use Emojis almost anywhere you can type text; in text messages, emails, notes and web sites.
The standard Emoji application is completely free. You can download it by one of two ways by iPhone:
1. By simply visiting the iTunes app store and downloading "Emoji," or
2. Settings -> General -> Keyboard -> International Keyboards -> "Emoji"
For Android users:
Download a text messaging application to replace the stock one on your phone. I recommend either ChompSMS or GoSMS (both of which are available for free on Google Play).
Open the app and compose a new text message.
Now try to insert an emoticon inside your text message. On ChompSMS, you can do this by pressing the + button to the left of the text field. Make sure to press on the different emoticon tabs.
Doing this should open a pop up prompting you to download the emoji plugin from Google Play. Click OK.
Download the emoji plugin.
When you go back to the app, you should now be able to use emoji emoticons.
See Also:
Here are the latest additions to Emoji Apps for 2012:
Emojicoder Pro, $0.99, available iTunes store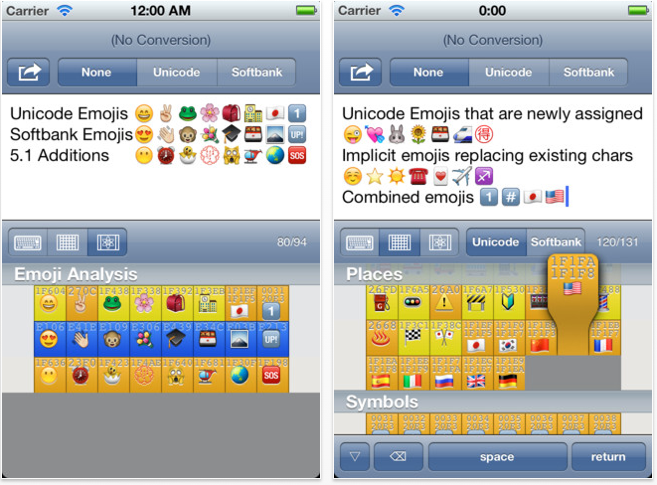 The Emojicoder Pro is a full-featured emoji operating tool that allows you to enter/convert/analyze whole built-in iPhone Emoji set consists of as many as 831 characters including 360 brand new Ios 5.1 additions, which is not available in the standard, free keyboard.
Emoji 2, $0.99, available  iTunes Store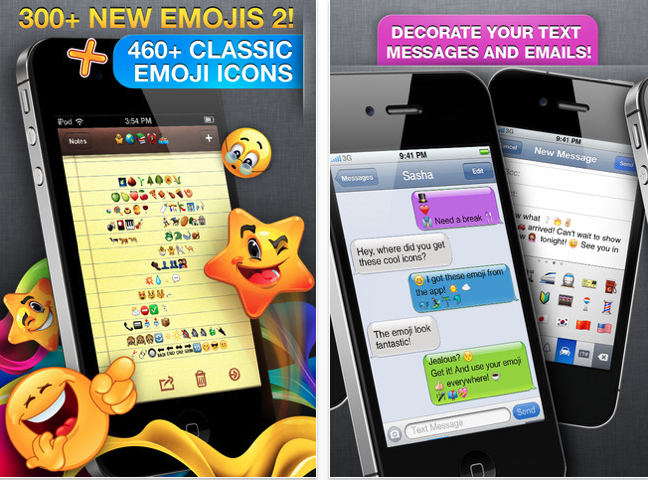 These uniquely designed emoticons in different categories like smileys, people, animals and food, will spice up otherwise mundane messages. These Emoji 2 icons are available only for iOS 5.1 or later.
What are your favorite Emojis?