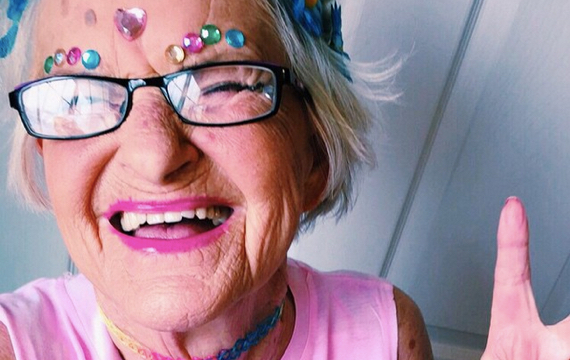 She goes by the name Baddie Winkle; and her bio says "Stealing your man since 1928."  Baddie Winkle, also known as Helen Ruth Van Winkle, is proving daily that age is but a number.
This 72-year-old grandmother is taking Instagram by a storm, raking in more than 1.1 million followers and receiving thousands of likes per post.
If you don't know "Baddie," it's only a matter of time. This hip grandma is considered a celebrity to the internet world.
This fashion-forward grandma, is known for her eccentric outfits.
  She even gets to mingle with celebrities regularly.
Speaking of celebrities, Baddie is also known for her celebrity impersonation Instagrams. Below is Taylor Swift.
Below is Kurt Kobain.
Recognized around the internet world, she is often sought out and brought out on stage.
One thing's for sure, this grandma knows how to have a good time!
To view more of Baddie's pictures and learn more about her, visit her Instagram.