It's one thing to be a bonafide shopper, but when it comes to organizing sartorial goodies in my closet, it takes some extra skill. Organize and clear the clutter with these 10 tips that will help you save time during hectic mornings, give you a balanced peace of mind and will ensure you have every piece you need to look chic for the day.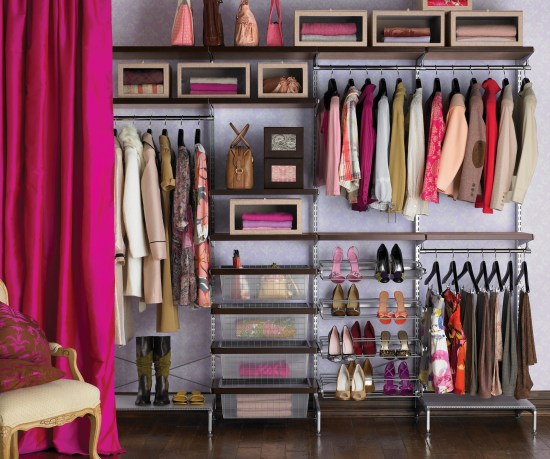 Tip 1: Clear it out
Distinguish clothing and shoes that you wear and items that you need to get rid of. Abide by the golden rule of closet organizing: If you haven't worn it in a year, toss it.
Also, if it doesn't fit you well, it is time to get rid of it. If you are on the fence about an item, "flag" the hanger and see if you really need those items later.
Tip 2: If the shoe fits
If you are keeping your shoe boxes, label what is inside or invest in clear shoe boxes with drawer-front pulls, so you can see what's inside without having to lift a thing.
Tip 3: Measure up
Once you have whittled down your wardrobe, you need to assess the layout of your closet. Measure the space you have, making sure to utilize backs of doors, floor space, and all interior walls. When you go to shop for boxes, bins, and other necessary space-savers, make sure you have your closet measurements in hand.
Tip 4: Get hung up
Invest in the right kind of hanger for the type of clothing you are hanging. Use padded hangers for items made from delicate fabrics, plastic hangers for button-down shirts, and sturdy wood hangers for suit jackets as they help retain the shape of the items.
Save time in the morning by coordinating your wardrobe. Sort by color, and hang like-types of clothing together (i.e. skirts, pants, blouses, etc.).
Tip 5: No sweat
Sort sweaters, T-shirts, and other folded clothing by color as well. Always remove sweaters from hangers, otherwise they will ruin their shape over time. Fold them in stacks using sweater dividers or boxes.
Tip 6: Eyes have it
Keep items you use frequently at eye level or below and items you rarely use higher up. Labeled boxes are good for storing things like bathing suits or turtlenecks because you can rotate them higher or lower in your closet depending on the season.
Tip 7: Seasonal change
It's totally possible you might have too much stuff to fit in your closet. If that's the case, then you need to resort to a seasonal system by rotating your fall/winter clothes with your spring/summer clothes. Invest in covered clothing racks or flat storage boxes.
Tip 8: Linen closets
Store folded sets of bed linens inside one of the set's pillowcases. Group same-size sheet sets together on shelves. Use attractive, easy-to-attach tags to mark the edge of the shelf with sheet sizes.
Tip 9: Storing table linens
Always clean and iron table linens after use. Tablecloths are best stored hanging from a pant or skirt hanger in your closet. Bundle clean, folded, matching napkins together in a paper or plastic bag and loop it over the top of the hanger.
Tip 10: China and crystal
You don't have to take up precious kitchen cabinet space to store your crystal and china unless you use both frequently. Find a safe place elsewhere in your dining room, basement, or other closet. Place paper coffee filters in between each plate and bowl before you stack each on top of one another.
Source: CNN