Happy Yoga Awareness Month! If that means nothing to you, then maybe a popular half off rooftop yoga class on top of Clarendon Hotel will. SuTRA Midtown Yoga is offering 50% off its regular drop in price for its picturesque and coveted Skyline Flow class every Saturday this month!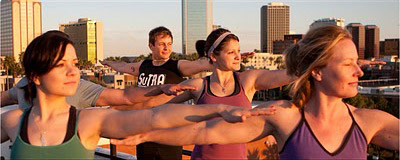 Perfect for first-timers or non-yogis, the drop-in rate is a measly $10 (regular price $20). Enroll online (required)!
What could be more blissful and serene than yoga on top of the skyscraping Clarendon Hotel, and for half off? Well, this hotel and SuTRA Midtown Yoga have joined forces to take your yoga buzz to all new heights! Atop the Clarendon's award winning Rooftop Deck, indulge yourself in SuTRA's signature Fusion Flow, amongst the stunning views of the Phoenix breathtaking mountains.
Whether enjoying the vast blue skies of a morning class, the purple and gold hues of a sunset class, or a cool and refreshing poolside class, the Clarendon Hotel and SuTRA Midtown create a unique and captivating experience.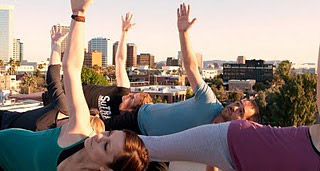 OASIS FLOW
Saturdays at 10 a.m. to 11:15 a.m.
Cool and refreshing poolside flow!
***Half-off only available at this class throughout September
SUNSET FLOW
Tuesdays at 6 p.m. to 7:15 p.m.
Dazzling views of the Phoenix skyline at sunset!
Stick around after class and enjoy one of CenPho's favorite hangouts, the Rooftop Deck & Lounge at the Clarendon Hotel. Named #2 on "One of the Best Things About Phoenix" by The Arizona Republic and "Best Hang Out" by the Phoenix New Times. Also be sure to take advantage of Gallo Blanco Café & Bar, located inside the Clarendon Hotel, for an after class cocktail or rooftop breakfast!
Remember to check the online schedule for class changes, updates or weather conditions!
The Clarendon Hotel
401 W. Clarendon Ave.
Phoenix, AZ. 85013