If you see crowds of people in pink marching through town, know these walkers are embarking on a three-day, 60-mile scenic journey to help others in the fight against breast cancer. If you happen to be one of these courageous walkers or are now inspired to join, Arizona's premier Revive Spa wants to extend their gratitude for your contribution and is offereing tired and sore participants a rejuvenating 50-minute Swedish or therapeutic massage at a discounted rate.
All you have to do is show your 3-Day bib numbers for your much needed $79 Swedish or therapeutic massage. As the 3-Day walk runs from Nov. 13 through 15, the special will only be available the day after your long journey (Nov. 16). The Swedish massage incorporates the resort's signature blend massage oil or lotion from its very own Revive Herb Garden for a relaxing and stress-relieving massage. The therapeutic is a more intense massage that uses deeper pressure to access the muscular layers and structures of the body.
2009 Arizona Breast Cancer 3-Day:
Ok ladies, it's not a marathon and you don't even have to run… just walk. So why not burn hundreds of calories while helping this fight for an amazing cause? The weekend will begin with an emotional Opening Ceremony at Freestone Park in Gilbert. Walkers will then start their journey through the small downtown areas of Gilbert, Mesa, Chandler and then into Tempe. The route is pleasant as it passes multiple water features and through various friendly neighborhoods. Participants will camp for the night in a "sea of pink tents." The organization promises to have everything you will need to enjoy a comfortable night stay. 
Saturday will start bright and early, as walkers will set out for South Mountain and throughout the Ahwatukee neighborhoods. Participants can bask in the gorgeous mountain views and lush green parks.
It's almost over… The final day of our journey will take walkers through the many noteworthy sights of Tempe and Scottsdale. Participants will venture the massive ASU campus and Papago Park. The last and final stretch will feature the charm of Old Town Scottsdale before heading to Scottsdale Stadium for a celebratory Closing Ceremony.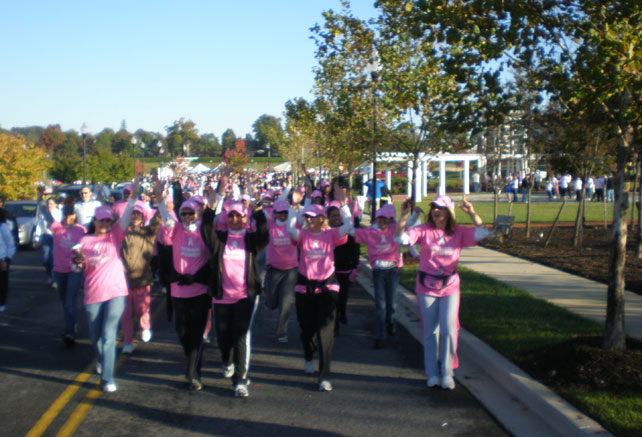 This is the sixth year the event, a three-day, 60-mile walk (20-miles per day) raising funds for and awareness of breast cancer, has taken place in Arizona. Each walker commits to fundraising a minimum of $2,300, helping to raise millions of dollars for beneficiaries Susan G. Komen for the Cure and the National Philanthropic Trust Breast Cancer Fund. Proceeds fund innovative and life-saving breast cancer research, education and community outreach programs.
Take the first step on your 60-mile journey. Click here to register  for the 2009 Arizona Breast Cancer 3-Day today.
About Revive Spa: Revive Spa is a 28,000-sq.-ft., elegant two-story spa featuring 41 treatment rooms at JW Marriott Desert Ridge Resort & Spa in northeast Phoenix. It offers a diverse menu of spa experiences that incorporate beautiful, tranquil settings and indigenous flora and fauna into signature treatments where ancient rituals join force with cutting-edge techniques.
For Revive Spa reservations, call 480.293.3700 or visit www.jwrevivespa.com.
JW Marriott Desert Ridge Resort & Spa
5350 E. Marriott Drive, Phoenix