Holiday spirits come to life with the magic of luminarias that light up pathways to dripping icicles that outline dark objects to light and brightly colored lights that are fandangled into fun shapes and characters.
Here are some of the best Holiday 2012 light displays in Phoenix:
1. Arizona Celebration of Lights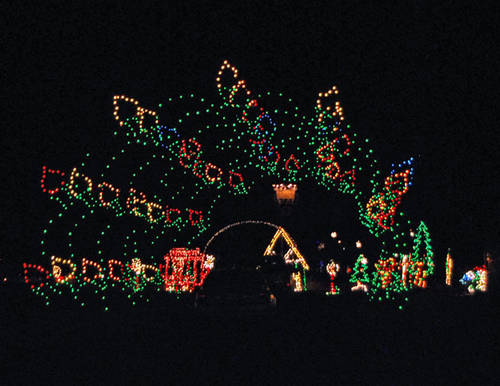 This fantastic light display includes more than 7,000,000 lights and 300 animated and still displays, all the while you and your loved ones stay in the warm comforts of your car and drive through the spectacle. Recognized as Arizona's largest display of holiday lights, organizers  anticipate that during this holiday season, about 15,000 cars will pass through the display.
Details: Through Sunday, Jan. 6 6-9 p.m. Sundays – Thursdays, 6-10 p.m. Fridays, Saturdays and holidays. Phoenix Event Complex, 2209 N. 99th Ave. $13-$18 per car. 765-664-3918. azcelebrationoflights.com.
2. Glendale Glitters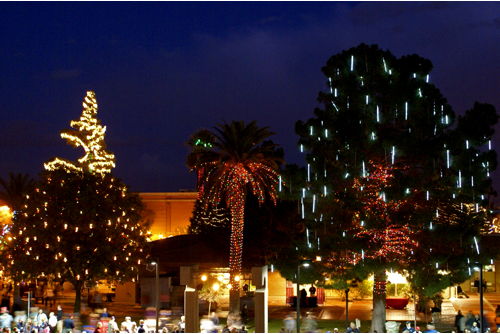 Historic Downtown Glendale comes to life each holiday season with about 1.5 million multi-colored twinkling holiday lights located throughout a twelve-block area that includes the Old Towne and Catlin Court Districts.
Details: 6-10 p.m. Fridays and Saturdays, Nov. 30-Jan. 1; Dec. 7-8 and 14-15; 4-10 p.m. Saturday, Jan. 12. Downtown Glendale, Glendale and 58th avenues. Free. 623-930-2000, glendaleaz.com.
3. ZooLights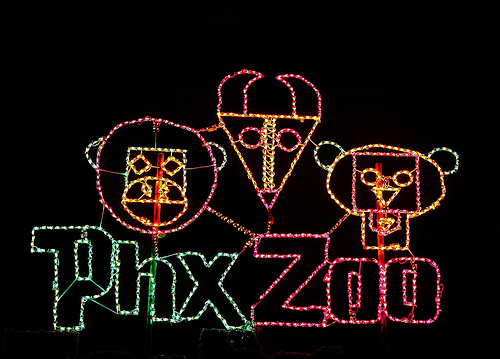 Wander, admire and discover the zoo grounds as you've never seen them before. Synchronized to 15,000 lights, the show is set to "Wizards in Winter," by the Trans-Siberian Orchestra. All new this year is the Music in Motion show, featuring dancing trees, 3-D butterflies, 12-foot floating light tubes and a 24-foot color-changing sphere above the lagoon.
Details: 6-10 p.m. nightly through Jan. 6. Phoenix Zoo, 455 N. Galvin Parkway. $10 Sundays-Thursdays, $14 Fridays and Saturdays; $9-$13 for zoo members. 602-273-1341. phoenixzoo.org.
4. Festival of Lights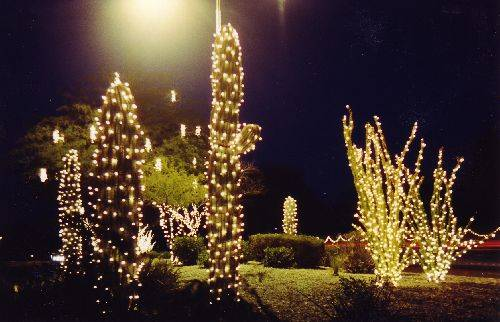 During the Holiday season, the mile-long section of Chandler Boulevard is decorated in more than 1 million white lights that wrap around saguaros, bushes, tall trees and other desert vegetation.
Details: 6-11 p.m. daily through Jan. 1. Chandler Boulevard between 24th Street and Desert Foothills Parkway, Phoenix. Free. 480-270-4365, folaz.org.
5. Las Noches De Las Luminarias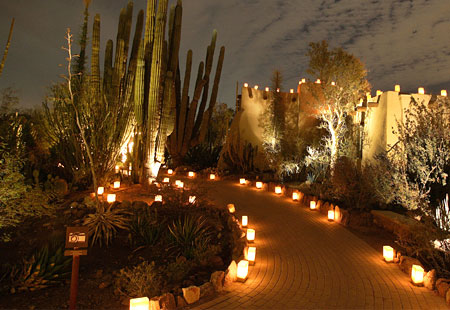 Each year during the holiday season the Desert Botanical Garden lines the paths of this extraordinary desert garden with thousands of luminarias. Food and beverage are available, live entertainment. A quiet, charming, romantic event, not necessarily for the kids.
Details: 5:30-9:30 p.m., Friday, Nov. 30; Fridays-Sundays, Dec. 7-9, 14-23 and 26-30. Desert Botanical Garden, 1201 N. Galvin Parkway, Phoenix. $25, $12.50 for ages 3-12. 480-481-8188, dbg.org.
6. APS Electric Light Parade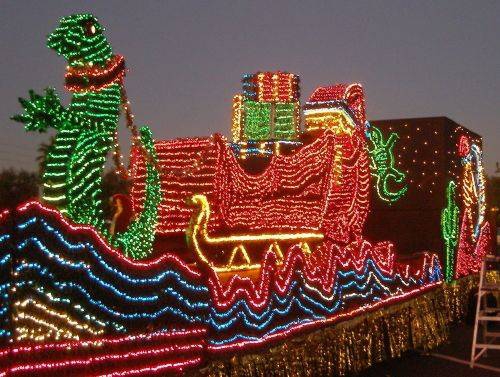 Starting at Central and Montebello avenues in Central Phoenix, thousands line the streets to watch light-covered floats with at least 2,000 lights each pass by. The parade continues south through Indian School Road and Seventh Street.
Details: 7 p.m. Saturday, Dec. 1. Free. 602-262-6862, phoenix.gov/parks.
7. McCormick-Stillman Railroad Park Holiday Lights

Take a train ride through many festive holiday lights and displays turning the Railroad Park into a winter wonderland. Opening-night festivities include a tree-lighting ceremony, musical performances and a visit from Santa.
Details: 6:30-9:00 p.m. Friday, Dec. 14, through Sunday, Dec. 23; Wednesday, Dec. 26 through Sunday Dec. 30; and Tuesday, Jan. 1, Saturday, Jan. 5. McCormick-Stillman Railroad Park, 7301 E. Indian Bend Road, Scottsdale. Free, but tickets for attractions are extra. 480-312-2312, therailroadpark.com.