As one of the most-attended golf tournaments in the world every year, The Waste Management Phoenix Open is also one of the first PGA golf events marking the calendar year.
After a sunshine-filled day's-worth of watching pro golfers shoot their game on the green, the Birds Nest is the spot to be and be seen, where the Valley's best bands, food and drinks come out to play. It's the ultimate golf party.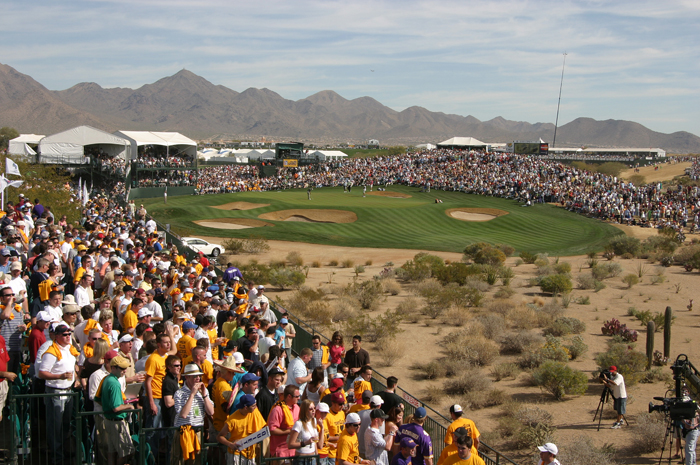 Performers to look forward to:
Wednesday, January 30: DJ Roonie G, Kelley James, Smasht
Kick off the start to Birds Nest Week with Roonie G., who whips up creative blends of audio and visual content encompassing popular music videos, iconic film footage, custom graphics and comedy shorts, delivering multi-sensory stimulation. After DJ Roonie G., national recording artist Kelley James will perform his fascinating collection of acoustic guitar, hip-hop beats, thoughtful lyrics and freestyle flows. Smasht will close Wednesday's show with their collection of current and past pop hits.
Thursday, January 31: Roger Clyne & the Peacemakers, Dierks Bentley
A Phoenix native and ten-time Grammy nominee, Bentley is one of the hottest stars in country music and promises to put on an incredible show for his hometown fans.
Friday, February 1: O.A.R.
Birds Nest crowd favorite O.A.R. returns to the Birds Nest after a one year hiatus.
Saturday, February 2: DJ Roonie G, Metalhead
Closing out the Birds Nest on DJ Roonie G will perform once again and set the stage for a Birds Nest favorite, Metalhead, Arizona's original rock show.
*Note: You must be 21 and older to get into the Bird's Nest!
Purchase tickets here!
Location: 82nd Street and Bell Road, Scottsdale (northwest corner)
Hours: 3:30 p.m. to 10:30 p.m., Wednesday through Saturday, with main stage entertainment beginning at 5 p.m. Headliners will perform at about 8 p.m.