One thing that follows you in Phoenix is the inescapable brilliance of the sunset. Whether you're dining out at a five-star restaurant at dusk or simply enjoying the natural desert terrain, the Phoenix desert is acclaimed for its breathtaking and colorful sunsets from any and every vantage point.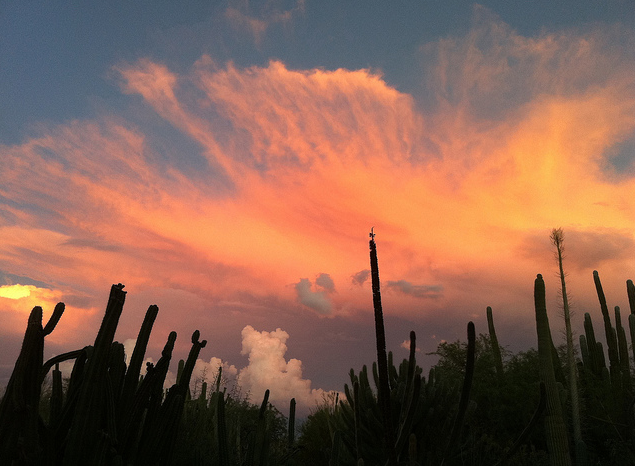 Photo by Flickr user rscottjones
Four Seasons Scottsdale
Unwind at the end of the day with friends on the large patio with comfortable seating set about 1,000 feet higher in elevation than downtown Phoenix, where the views of the city and Pinnacle Peak are exquisite.
10600 E Crescent Moon Dr., Scottsdale
888-207-9696
Compass Arizona Grill at the Hyatt Regency
Snag a table by the window and enjoy a 360 degree view of the sunset over the mountains and an endless sea of city lights over dinner at Phoenix's only revolving rooftop restaurant.
122 N Second St, Phoenix  85004
602-252-1234
Lon's at the Hermosa Inn
The ambience is exquisite, especially sitting on the charming patio to watch the sunset amid the mountains and desert surroundings. It's a true Southwestern experience.
5532 North Palo Cristi, Paradise Valley
1-800-241-1210
Phoenix Desert Botanical Garden
Enjoy the setting sunlight as it reflects off the clay red rocks of Papago park, while you're taking in the beautifully designed acres of desert landscaping and wildlife.
1201 N. Galvin Parkway, Phoenix  85008
South Mountain
Head up to Dobbins Point at dusk and watch planes departing and arriving at Sky Harbor to the east, as the city lights over Valley neighborhoods light up in the west below.
10919 S. Central Ave., Phoenix
602-495-0222
Hayden Butte Preserve
Also known as "A" Mountain, this central Tempe location lends a beautiful sunset view rippling over Tempe Town Lake. It will definitely make the glute-burning walk up the butte worth it.
Fifth Street and Mill Avenue, Tempe
Where is your favorite place to catch the gorgeous Phoenix sunset?