Rev up your engines, Barrett-Jackson Auction Company will sponsor and wrap David Ragan's No. 34 Ford in the NASCAR Sprint Cup Series this Sunday.
Known as NASCAR's top racing series, the NASCAR Sprint Cup will mark the second race of the 36 in the Sprint Cup Series.
The event will take place at Phoenix International Raceway (PIR) at 2:30 p.m.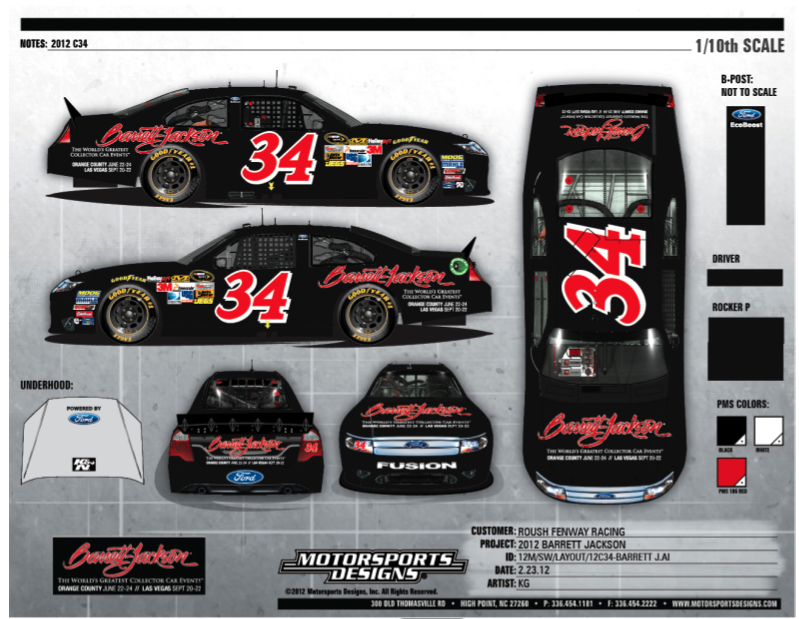 "Barrett-Jackson is excited to sponsor and wrap David Ragan's No. 34 Ford this Sunday," said Craig Jackson, chairman and CEO of Barrett-Jackson, in a statement. "This is not only a tremendous opportunity for Barrett-Jackson to increase its visibility on racing's biggest stage, but an honor to be involved in NASCAR's most celebrated competition series."
The series is NASCAR's highest level of competition, and annually draws an audience of about 200,000 and television viewership of over 15 million.
Phoenix International Raceway is a one-mile, low-banked racetrack located in Avondale. It houses three major NASCAR events annually, bringing in over $470 million to Arizona's economy.
Established in 1971 and headquartered in Scottsdale, Ariz., Barrett-Jackson specializes in providing products and services to classic and collector car owners, astute collectors and automotive enthusiasts around the world. The company produces the "World's Greatest Collector Car Events™" in Scottsdale, Palm Beach, Fla., Las Vegas and Orange County, Calif.
For more information on Barrett-Jackson, visit www.barrett-jackson.com.