As the Valley embraces the cooler fall weather, premiere Phoenix art museums ready to display new exhibits, both indoor and out: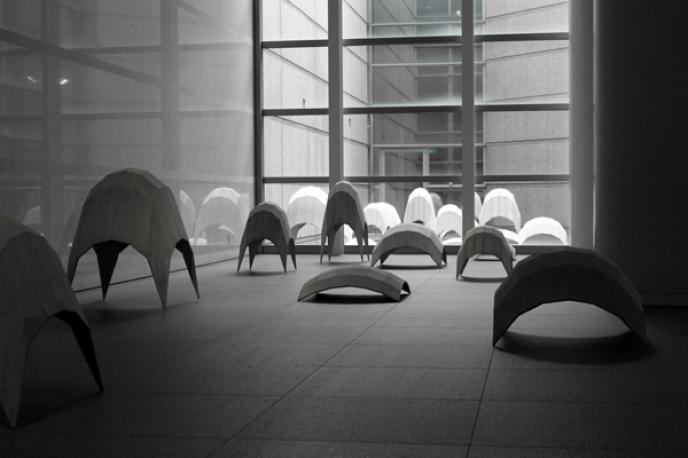 'Architecture + Art: Hector Zamora' exhibit at the Scottsdale Museum of Contemporary Art
Modern Spirit: Fashion of the 1920s
Modern Spirit: 1920s Fashion and Design presents a unique look beyond those decade familiar images of flappers, freedom and bobbed hair. More than 40 ensembles by designers such as Gabrielle "Coco" Chanel and Madeliene Vionnet embody the modern spirit of the decade's livable fashion, the evolution of clothing and accessories as an expression of freedom, intellectualism, sexuality and athleticism that marked the beginning of the modern age.
Phoenix Art Museum, Ellman Fashion Design Gallery
September 22 – Feb. 10, 2013
The West Select, A New Western Classic
Presented by the Museum's Men's Arts Council, The West Select unites 35 leading artists from across the country to present an expansive take on the great diversity of the American West. Featuring more than 110 paintings, drawings, sculptures, watercolors and photographs, the selected works will reveal iconic landscapes, still-lifes and wildlife; genre scenes of the historical and modern West, as well as depictions of the "New West."
Phoenix Art Museum, Steele Gallery
November 11 – December 31
'Architecture + Art: Hector Zamora'
The latest in SMOCA's "Architecture + Art" series, Brazilian-based artist Zamora has created installations that explore the connecting point between the natural landscape and the constructed world, challenging viewers to reinterpret the intersection of our constructed world and the natural landscape.
Scottsdale Museum of Contemporary Art
October 27 – January 27, 2013
38th Anniversary ArtWalk
The Scottsdale Gallery Association launches the new season with a celebration of nearly four decades of its weekly Thursday walking tour events. Featuring street food, live music and artist demonstrations, show openings are also displayed at three dozen member galleries filled from traditional Western to upscale contemporary art.
7-9 p.m. October 18. Main Street and Marshall Way.