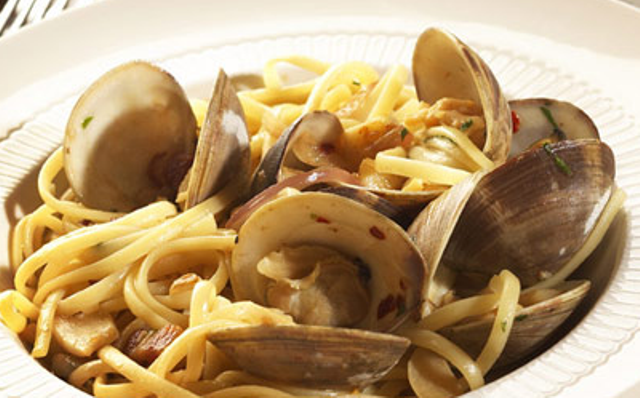 Included in all the excitement of the new wing opening at Scottsdale Fashion Square was the unveiling of Marcella's Italian Kitchen. The restaurant was chock-full of folks on the wing's opening day at lunch time (obviously, we weren't the only ones  who couldn't wait to get a table and dig in to some Italian eats). We were seated on the outdoor patio near the bar, which'll make a great scene in the evening thanks to the lovely strings of white lights that zigzag across the overhang. The interior of the large restaurant appeared quite inviting, with earth-toned hues and plenty of warm light and candles. (Marcella's was named, by the way, after restaurateur Cameron Mitchell's favorite Italian chef, Marcella Libertini. Marcella was the chef and house manager of the Tuscan villa that his family would vacation at in the summers.)
For our lunch, a colleague and I opted for a starter of prosciutto and melon. While the dish was good and there certainly wasn't any skimping on the prosciutto, I would have preferred the melon to be wrapped in the meat, which it wasn't. For the main event, we took advantage of the smokin' lunch combo deals (pizza, panini or pasta with soup or salad for under $9!) and ordered the linguine and clams and the veggie pizza  along with chopped salads. Though there wasn't anything particularly exciting about the salads, the pasta dish, with its garlic butter sauce and bits of pancetta, was delicious. Our favorite dish was the veggie pizza, though, topped with nice chunks of zucchini, mushrooms, olives, tomatoes and mascarpone cheese. Every bite had a few vegetables in it and all the colors were just so pretty. We were also pleased with the size of the combo meal portions–just enough for a filling lunch. 
I'm already plotting my next visit to Marcella's: perhaps the lobster and shrimp salad (at just $15, this is one of the priciest items on the menu) or the shellfish risotto. Maybe the mushroom pizza topped with truffle oil? Regardless of my entree, I'll also be ordering from the hand-crafted cocktail menu. During this lunch visit, I indulged in a non-alcoholic version of the strawberry balsamic martini. Though I would have preferred a bit more of the balsamic taste, the drink was smooth and refreshing. I can't wait to try another savory-sweet cocktail that caught my eye, the grapefruit-basil tipple. http://www.marcellasitaliankitchen.com/.
Tune in next week for my take on Sam Fox's new Modern Steak, another addition to Scottsdale Fashion Square.