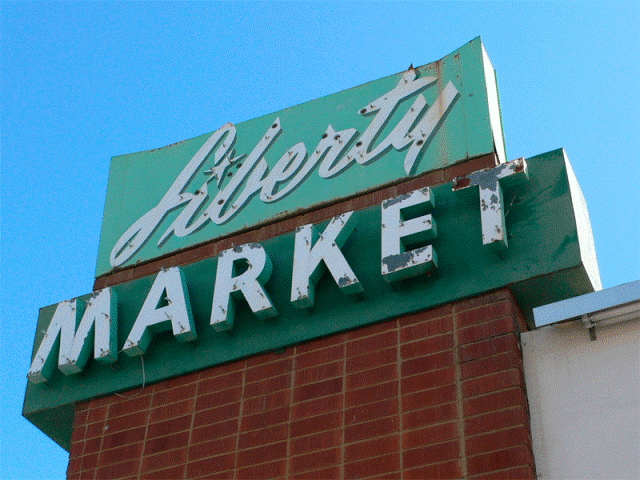 Time after time, I have announced my love for Joe's Farm Grill in Gilbert (that's the same Joe behind Joe's Real BBQ). The adorable farm setting, with towering trees and picnic benches, is one of my favorite places to be on a nice day and eating Joe's delish sweet potato fries, milkshakes and pizzas is my favorite way to spend such days.
Last weekend, I ventured to Joe's newest restaurant, Liberty Market (across the street from Joe's Real BBQ in downtown Gilbert). At this casual, neighborhood  market, customers order up the goods at the counter and their meals are then brought to the self-seat tables. Liberty Market, which is open for breakfast, lunch and dinner, offers up wood-grilled pizzas, sandwiches, salads and soups. A few of the menu items are old-fashioned faves like grilled cheese, sloppy Joes and Cobb salads. And starting next week, they'll also serve the Tower Burger, a half-pounder with all the fresh fixings.
On this day, we opted for a seat outside to soak up the wondrous weather (plus, the inside of Liberty Market was quite bustling). Though the the alfresco feasting area won't win any points for its amazing views, as it butts up against a parking lot,  it is quite private and the furniture is very cute and contemporary. For lunch, I ordered the insanely yummy caprese sandwich with mozzarella, tomato, basil, olive oil and balsamic with a side of roasted sweet potato salad sprinkled with nuts and cranberries. My singular complaint is that the bread of the panini got soggy with the olive oil and balsamic so, next time, I might order that on the side. My husband sampled the Far East salad of Asian mixed greens, crispy won tons, red bell pepper, black sesame seeds, honey-soy vinaigrette and his addition of steak. The meat was cold, though, to his chagrin.
He got over it, though, once he witnessed Liberty Market's supercool restrooms. The walls of the unisex stalls are lined with recipes and while washing your hands at the sink, you can actually peek out of a tiny window to spy on your friends who are still dining in the outdoor seating section (may that be a warning to folks dining outside–you may be being watched!)  
One last thing: Liberty Market also has a to-go option, and I think their meals would make a great spread at a picnic. So whether you eat in or take out, give it a go next time you're Gilbert-bound. www.libertymarket.com.