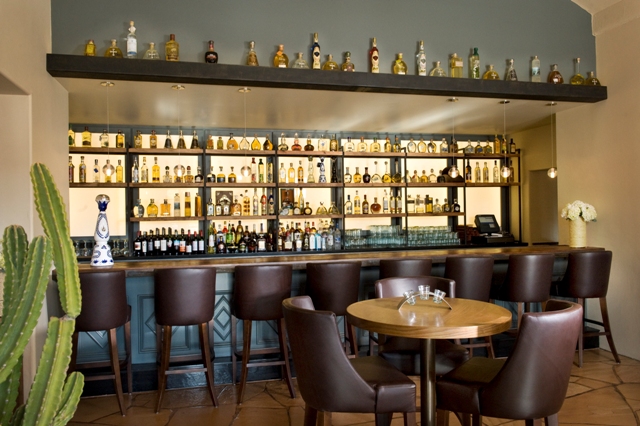 About 17 months ago, on my husband's birthday, I decided to surprise him with reservations to his favorite restaurant: La Hacienda. Unfortunately, on that day, we were welcomed to the restaurant by being told that the restaurant had closed. Needless to say, it was a very sad day for both of us–and many Valley food lovers who'd been dining at the Fairmont Scottsdale restaurant for nearly 20 years. However, it seems like there has been an answer to my prayers, as La Hacienda reopened in January, with chef extraordinaire Richard Sandoval (he has restaurants in D.C., New York, San Francisco, Denver, Las Vegas, Mexico CIty, Acapulco and Dubai–busy man!), alongside Chef de Cuisine Forest Hamrick, in the kitchen.
Though the interiors of the reincarnated La Hacienda are still Spanish-inspired, the furnshings are a bit more modern (even some of the old furniture has been recycled with new upholstery). And the gorgeous tequila bar–you'll find 120 bottles on display!–and outdoor fire pits are something to behold. However, it is the cuisine that is really the showstopper at the new La Hacienda.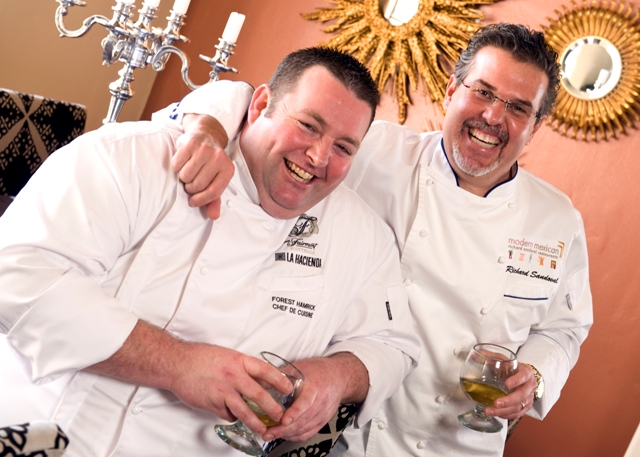 Though you won't find a Spanish restaurant in the Valley that doesn't offer guacamole or queso fundido, you have to order both at La Hacienda (served with warm tortilla chips). The queso is a particularly delicious mixture of Oaxaca, Chihuahua and Monterrey cheeses with chorizo and mushrooms. The ceviche tasting of shrimp, avocado and habanero and mahi mahi with tomato-citrus and serrano was just a bit spicy and mighty flavorful. The citrus flavor was especially refreshing with the fish.
For a truly unique entree, dig into the tamal de Huitalcoche, stuffed with goat cheese. Amazing–wasting a bit would be a sin. However, my favorite entrees were the red snapper and the supertender braised beef short ribs with crema fresco potato puree and a chili-guava glaze. Both were mighty delicious and among my must-orders on my next foray to La Hacienda.  Though it might not seem possible, save room for dessert. The flan is among the best I've ever eaten and the Bomba de Chocolate is a pyramid of deliciousness (it's so pretty too, see below). And don't dare think about dining at La Hacienda without enjoying a cocktail or two. The watermelon margarita is wonderfully refreshing and the pineapple-serrano chili margarita is a unique concoction that offers a bit of spice.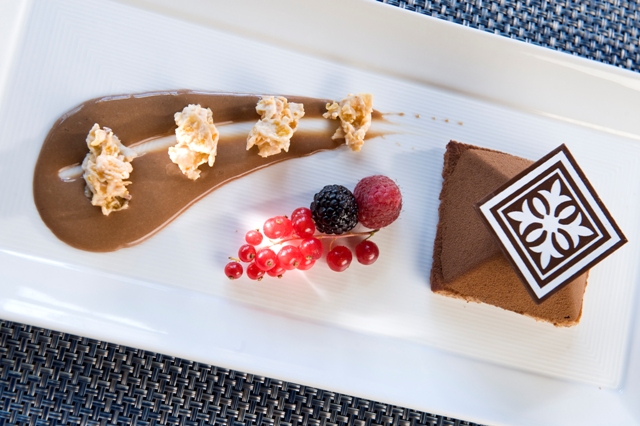 Since tequila is pretty much a requirement at La Hacienda, make it a night and get yourself a room at Fairmont Scottsdale. You'll dream of guacamole and churros and margaritas in one of the resort's cushy beds. www.fairmont.com/scottsdale.