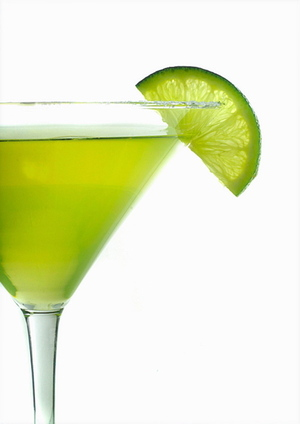 When it comes to dining out, I've been on quite a Southwestern kick lately. This time, my hunger pangs took me to North Scottsdale's Jalapeno Inferno Mexican Bistro. Upon arriving at Jalapeno Inferno, I had my fingers crossed that the weather would magically cool off so I could enjoy the restaurant's nice patio. Though the patio was shaded, we still opted for a roomy booth inside. Though it may seem small at first, Jalapeno Inferno is actually quite large, as half of the eatery is devoted to a Southwestern-y family-style dining room. This area has a palette of beige and browns and large planters full of flowers. The other half of the space is a cool, more contemporary cantina–great for getting drinks and taking in happy hour.
We took our seats in the dining room and promptly ordered guacamole to go with the chips and salsa that graced our table. The bowl of tortilla chips featured a warm combo of corn and flour varieties–highly addicting. While the guacamole was good, they were unable to give it to us without onions as we requested. (Next time, we're going to go for the green-corn tamales as an appetizer.) However, we definitely felt better once our delectable entrees arrived. My husband thoroughly enjoyed the Texas-inspired grilled chicken tacos smothered in mango-chipotle barbecue sauce. I ordered a more healthful dish of shrimp, steamed veggies, black beans and rice. The shrimp was jumbo and seasoned to perfection–just enough kick. And the steamed broccoli, carrots and other veggies were still very crunchy and flavorful. The menu also includes enchiladas, burritos, tamales, fajitas, quesadillas, soups, salads and a variety of combo creations if you can't make up your mind.
Another thing not to miss out on at Jalapeno Inferno is the wonderful cocktail list, which includes some margaritas that are bound to quench anyone's thirst. (I'm ordering the coconut margarita next time. How summer-ready does that sound?) For dessert, though we went back and forth between the honey flan and "Ta-Co"okie, we opted for the later dish–and not just because of its clever name. The dessert consisted of a huge, undercooked chocolate-chip cookie, topped with vanilla bean ice cream, chocolate chips and chocolate sauce, all served in a cast-iron skillet. Though the cookie was a bit too browned, it obviously didn't bother us too greatly–we were too busy silently stuffing our mouths to voice any grievances. 23587 N. Scottsdale Rd., Scottsdale, 480.585.6442.