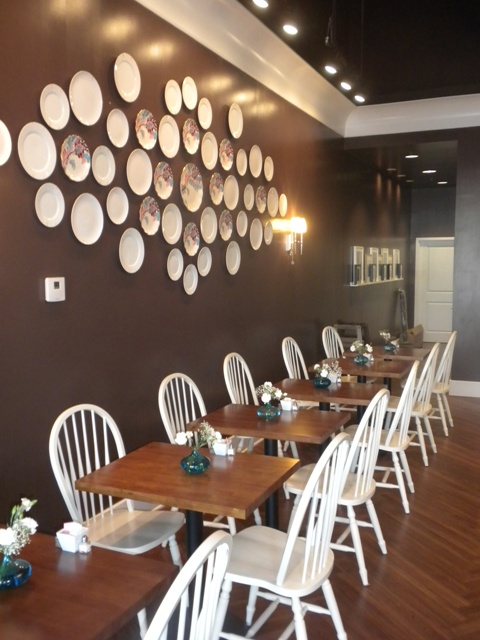 Us AFM-ers are always looking for great new places to do lunch near our office. And a new spot just opened that might make the perfect spot for a light lunch (and some gelato) this summer. Chez Vous Crépes & Gelato at The SHOPS Gainey Village in Scottsdale was opened a few weeks ago by a sweet French couple, Richard and Isabella Horvath. After visiting the area last year, the twosome decided to uproot from France and try life in Arizona. (Isabella says she was tired on the constant gray skies and was ready for some sunshine.) And with their new life, comes their new and delicious venture.
The adorably decorated (the shiny black piano and gorgeous wall collage of plates are stunning) Chez Vous Crépes & Gelato dishes up–you got it–sweet and savory crepes and gelato from Grateful Spoon at LGO. Chez Vous also has a roster of salads and sandwiches to choose from. We got to samples several of Chez Vous amazing savory fit-for-lunch crepes and were particularly pleased with the Chef's Choice crepe which feature decadent goat cheese, warm apples, honey and chives and the Chez Vous crepe with chicken, mushrooms and bechamel sauce. The Chef's Choice is a perfect light summertime option which the Chez Vous is a great comfort food. (All crepes are served with a salad as well.)
For dessert, a scoop of lemon or pistachio gelato will do just fine. But we loved the sweet crepes–some filled with Nutella, other chock-full of berries. During our next trip to Chez Vous, we can't wait to try the exotic crepe, filled with toasted shredded coconut, melted dark chocolate, bananas and whipped cream. Sounds delish, huh? Gainey Village, 8787 N. Scottsdale Rd. Suite 228. 480.443.2575.