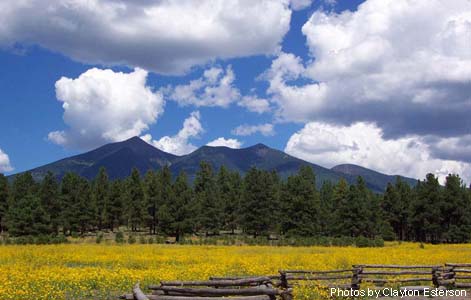 Cardinals Training Camp is officially underway in Flagstaff as of last weekend (it ends on August 20). Because many of you faithful Cardinals fans with no doubt be headed north to see the football team prepare for the upcoming season–or perhaps just to get out of this ghastly heat–I've prepared a list of my favorite Flagstaff restaurants for you to enjoy during your stay. You see, I graduated from Northern Arizona University a few years ago and have since visited the Northern Arizona town a few times a year to revisit my old stomping ground. However, my trips always seem to revolve around visiting my favorite college-era restaurants. Here they are for you to enjoy.
Little Thai Kitchen No, this Thai eatery isn't much to look at. However, it's one of my favorite restaurants on the planet. My husband literally runs to the door after the car is parked. It's a favorite among locals and college students because it offers affordable and flavorful Thai fare. My husband adores the yellow curry dish and the tiger rolls–so much, in fact, that he orders them as an appetizer and dessert. I love the salads, noodle dishes and cashew chicken. Plus, the service is amazing and you'll immediately feel at home. 1051 S. Milton Rd. # D, Flagstaff, 928.226.9422.
Burritos Fiesta Again, this strip mall restaurant isn't much to look at. However, it dishes up yummy Mexican food in sizable portions and small price tags. The chicken tacos are superb and the black bean-and-cheese burritos always hit the spot. And the horchata, oh, the horchata… 1530 S. Riordan Ranch St. #405C, Flagstaff, 928.774.3600.
Monsoon's This Downtown Flagstaff restaurant has great Asian dishes (love the signature sushi rolls!) with even better people watching opportunities. Visit the restaurant when the weather is just right and grab a seat on the patio. It overlooks Heritage Square and is in the middle of all the downtown action. 6 E. Aspen Ave., Flagstaff, 928.226.8844.
NiMarco's Pizza This pizza joint is a favorite among students. Not only are the slices tops, but the restaurant is very cozy and incredibly welcoming. It's a great place to wind down at the end of the day. 101 S. Beaver St., Flagstaff, 928.779.2691, http://nimarcospizza.com/.
Beaver Street Brewery The wait at this Downtown restaurant might be a bit long, but the brewery's Bramble Berry Brew is well worth the wait. Plus, Beaver Street Brewery offers just about anything you might have a hankering for: pizza, sandwiches, salads and amazing soft pretzels. 11 S. Beaver St., Flagstaff, 928.779.0079, http://www.beaverstreetbrewery.com/.
Granny's Closet Comfort food in a quirky atmosphere (meant to resemble your, well, grandma's closet). This place excudes charm and local character. 218 S. Milton Rd., Flagstaff, 928.774.8331, http://www.grannys-closet.com/site/.