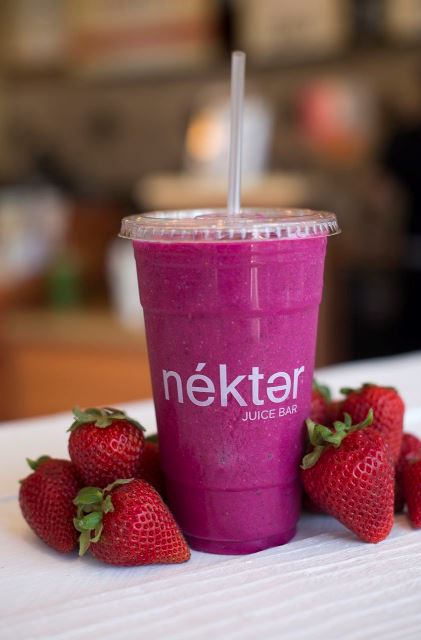 In a season full of cookies, cakes and candy canes, the idea of sipping a nutrient-packed green juice is even more alluring. In the past few months, several juices bars have popped up around the Valley. Here are a few of our favorite new kids on the juicing block.
A new concept from Fox Restaurant Concepts, Juby True at Scottsdale Quarter, doles out a healthy variety of cold-pressed juices, hydrating waters and superfood smoothies. Try Golden Road made with pineapple, pear, golden beet, lemon, peeled orange and turmeric or Nuts and Berries, a blend of frozen berries, orange juice, almond butter and Greek yogurt that is perfect for a post-workout sip. www.foxrc.com.
24 Carrots Natural Café and Urban Juicery, a favorite spot in Chandler that has just moved to a much larger location in Tempe, dishes out a vegan and vegetarian menu–without excessive salt, fat, sugar, artificial flavors and preservatives–in addition to delish juices. Plus, with the new space in Tempe, 24 Carrots has unveiled a gluten-free and regular bakery, selling custom cakes, cupcakes, breads and more guilt-free treats. www.24carrotsjuice.com.
Nekter is a Southern California-based lifestyle brand that recently opened its doors in Scottsdale. (There is one on its way in Chandler, too.) The juice bar doles out all-natural drinks, smoothies, multi-day cleanses and food selections, including salads, quinoa and acai bowls. The juice menu includes the antioxidant-packed The Cure with beet, broccoli, kale, parsley, celery, grapes and apple and The Sublime with lime, orange, parsley, kale, spinach, and cucumber. www.nekterjuicebar.com.
Moju Juice Bar, located in clubhouse at Grayhawk Golf Club, offers a great selection of juices and smoothies made from the freshest fruit and produce. Patrons can get a vitamin boost from juice selections like the Clean Machine made with beet, apple, ginger, lemon, and parsley or fuel up after a workout with the signature Got Mojo featuring peanut butter, chocolate, banana, almond milk, and whey protein. Moju also offers a variety of acai bowls that can be topped off with raw oat nut granola or power house greens like spinach and kale. www.grayhawkgolf.com