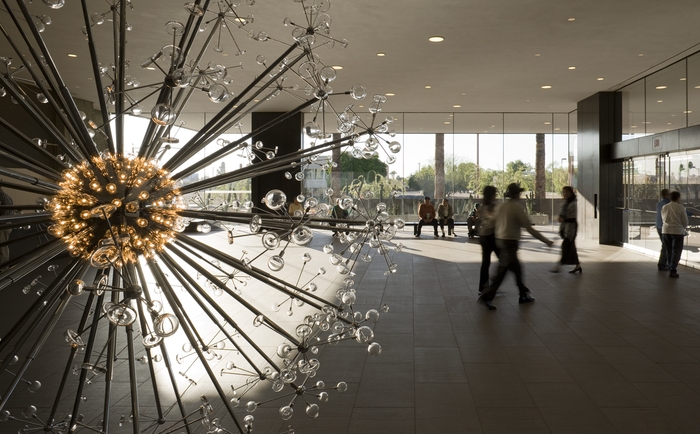 As you're hosting out-of-town visitors this spring, be sure to put these museums–and their tasty cafes–on your to-do list.
Palette at Phoenix Art Museum focuses on American fare in a casual setting. Palette dishes up organic vegetables, handcrafted cheeses, local meats, olives and Arizona boutique beers and wines. Menu must-tries include the parmesan-herb fries, roasted butternut squash bisque, Asian crispy chicken salad, Arizona cabernet braised short ribs, butterscotch pudding and much more. There is even a great kid's menu and several dishes that meet vegetarian and gluten-free needs. www.phxart.org/palette.
Just as Phoenix's Musical Instrument Museum focuses on music and culture from around the globe, so does its MIM Cafe. The casual self-serve eatery serves local and regional cuisine in the form of fresh salads and sandwiches, grilled pizzas, tempting desserts and much more–and MIM Cafe's menu sometimes reflects the exhibits taking places throughout the museum. For a quick bite, the adjacent coffee shop offers yummy grab-and-go offerings. www.mim.org.
The Cafe at Heard Museum North Scottsdale is a must-stop for mouthwatering lunch dishes. Try the chile-lime shrimp ceviche for a light mid-day appetizer. For tasty southwestern-inspired eats, dig into a cup of posole and enjoy the healthy Dreamcatcher salad. For a hearty entree, the Heard Signature Meatloaf is a favorite. For dessert, the fry bread is tops (or go all out and get the fry bread sundae).  www.heard.org.
Fabulous Food Cafe at Arizona Science Center offers eats to please the entire family, from burgers and hot dogs to Greek salads and tuna melts. For a hearty mid-museum visit break, sink your teeth into the grilled hot pastrami panini. The sandwich comprises a heap of shaved pastrami, Swiss cheese, coleslaw and Thousand Island dressing, all on grilled rye bread. Fabulous Food Cafe also dishes up a kid's menu that is sure to satisfy the little ones in between their visit to the planetarium and the WONDER Center. www.azscience.org.
Crave Sandwich Cafe & Catering at Children's Museum of Phoenix is a casual, kid-friendly–naturally–spot to grab fresh-made salads, sandwiches and quick snacks for the whole family. The best spot to take in these eats are on the museum's picturesque front lawn, shaded by olive trees. www.childrensmuseumofphoenix.org.