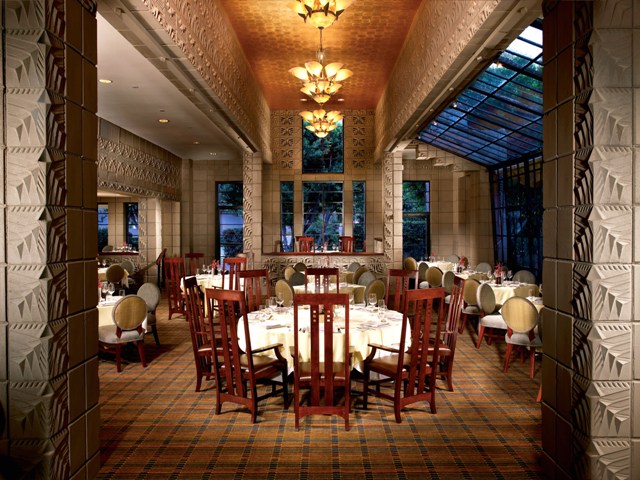 I just returned from a trip to Sonoma Valley, so this girl definitely has wine on the mind. Therefore, I was delighted to get the following announcement from The Arizona Biltmore in Phoenix. The beloved resort is pouring its 20th season of Winemaker Dinners, holding eight monthly epicurean events from October 2009 to May 2010 that feature noted California, Washington, Oregon and French wines along with guest chefs from top resorts nationwide.
For the 2009-2010 season, the dinners will showcase wineries from famed wine-growing regions including California's Napa Valley and Sonoma County, Washington state's Columbia Valley, Oregon's Willamette Valley and Reims, France. The dinners will be held in the historic resort's signature restaurant, Wright's at The Biltmore. Each event will feature a unique menu of four to six courses, with a complementary wine poured with each course. Three of the dinners will be prepared by guest chefs from nationally known resorts including Boca Raton Resort & Club, La Quinta Resort & Spa and Hotel Del Coronado. Wright's Chef de Cuisine Conor Favre and other Biltmore chefs will create the other menus. A representative of the dinner's featured winery will participate in the epicurean evening, talking about the wines, answering questions and spending time with guests.
Another feature you do not want to miss out on–especially because it is not offered at other such dining events–will be creative displays of beautiful designed jewelry by Molina Fine Jewelers of Phoenix.
A reception at 7:00 p.m. is followed by dinner at 7:30 p.m. The cost is $125 per person. A season ticket for all eight dinners is $875 per person, in advance. Tax and 18 percent gratuity will be added. For reservations, call 602.381.7632.
The 20th season of Winemaker Dinners will feature the following wineries:
● Oct. 1, 2009: Heitz Cellars, Napa Valley. (Heitz is a personal favorite of mine.)
● Nov. 5, 2009: Erath & St. Michelle Wine Estates, Willamette Valley/Columbia Valley.
● Dec. 3, 2009: Taittinger, Reims, France.
● Jan. 7, 2010: ZD Wines, Napa Valley.
● Feb. 4, 2009: B.R. Cohn Winery, Sonoma County.
● Mar. 4, 2009: Rubicon Estate-Francis Coppola, Napa Valley.
● Apr. 1, 2009: Newton Vineyards, Napa Valley.
● May 6, 2009: Rombauer Vineyards, Napa Valley.