We hope you enjoyed yesterday's arugula and watercress salad and grilled swordfish with avocado butter recipes! Here are two more tempting barbecue-friendly dishes featuring the new Samuel Adams Summer Ale.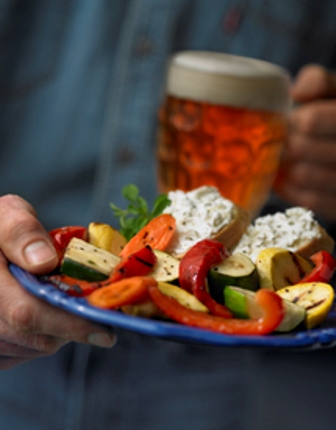 Grilled Summer Vegetables with Samuel Adams Summer Ale Vinaigrette
1 bunch asparagus
8-10 pc. Peeled baby carrots
1 red pepper
1 yellow pepper
1 medium zucchini cut in 1/3 inch slices
1 large red onion cut in ½ inch clices
1 cup extra virgin olive oil
Salt and pepper
Marinade:
1 tsp fresh thyme
1 tsp fresh oregano
1 tsp chopped fresh chives
1 tsp mince shallot
1 tsp Dijon mustard
1 tbsp white balsamic vinegar
1 cup canola oil
Vinaigrette:
2 cups extra virgin olive oil
2 tbsp Dijon mustard
½ cup white balsamic vinegar
2 tbsp Samuel Adams Summer Ale
2 tbsp chopped fresh herbs (chives, tarragon, parsley)
Salt and pepper
Separately blanch asparagus and carrots in boiling salted water. Cut carrots in half lengthwise. Whisk together all ingredients for marinade and coat zucchini, yellow squash and red onion. Lightly coat peppers in olive oil and season with salt and pepper. Grill turning frequently until pepper is charred all around. Wrap each pepper in paper towel and set aside. Season vegetables with salt and pepper and grill on both sides until warmed through. When peppers cool slightly , remove paper, carefully remove stem and seeds. Using the back of a paring knife, carefully remove skin. Whisk together all vinaigrette ingredients and lightly dress vegetables.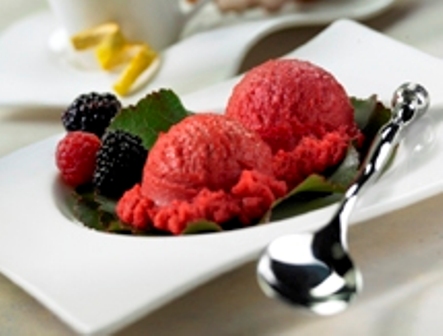 Samuel Adams Summer Ale Fresh Berry Sherbet
1 cup Samuel Adams Summer Ale
1 cup sugar
1 cinnamon stick
1 tbsp finely minced lemon zest
1 ½ cups pureed blackberries, strained
1 ½ cups pureed raspberries, strained
2/3 cup heavy whipping cream
1 tbsp lemon or lime juice
In a small pan, combine beer, sugar, cinnamon stick and lemon zest. Heat slowly, stirring until sugar is completely dissolved. Cover and bring to a slow boil for 1 minute. Remove lid and continue to slowly boil for 3 minutes. Remove from heat, strain and cool to room temperature. Add remaining ingredients and chill. Pour into an ice cream maker and proceed with factory directions.