Ladies, we all know the way to a man's heart is through is stomach, right? Well, fellas, the same can be said for us lady folk. Scottsdale's Estate House, at SouthBridge, and Eddie V's on Market Street at DC Ranch provided two very tasting offerings to whip up for your Valentine this weekend.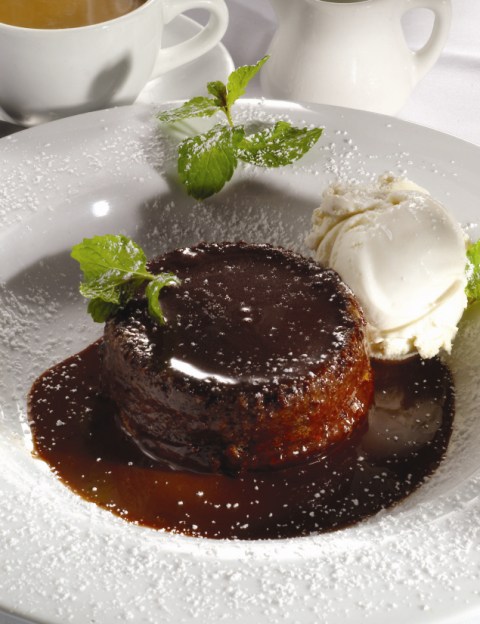 Godiva Chocolate Cake by chef Brian Feirstein, Eddie V's
½ lb. Dark Godiva chocolate
5 Eggs
1 tsp. vanilla extract
6 oz. sugar
3 oz. butter
1 tsp. Godiva liqueur
Melt chocolate and butter. Whisk eggs and sugar; add vanilla. Add eggs to chocolate slowly. Divide batter into four lightly buttered and floured, eight-ounce ramekins. Bake at 375 for approximately 18 minutes. Turn out into a soup bowl, serve with vanilla ice cream.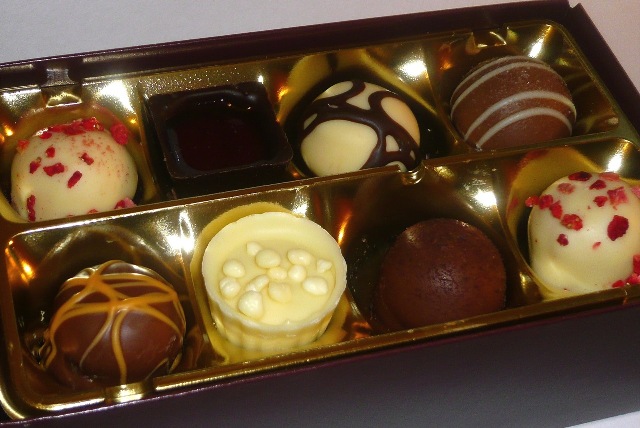 Homemade Valentine's Confections by Pastry Chef Jon Spahr, Estate House
Toffee
1 ¼ C Sugar
1/3 C Corn syrup
1/3 C Water
8 oz. (two sticks) Butter
1 tsp. Salt
½ tsp. Baking soda
Combine sugar, corn syrup and water in a sauce pan and cook to 240 degrees (use a candy thermometer). Whisk in butter and continue cooking until candy thermometer reads 325 degrees (candy should be a dark tan color). Immediately stir in soda and salt just to incorporate. CAREFUL! When adding soda the toffee will rise up. Pour toffee out while hot onto a sheet pan lined with parchment or wax paper. Spread toffee carefully with spatula, then place a piece of wax paper on top and roll it out to desired thickness. While still hot remove wax paper and score the toffee into desired shapes with a knife. Allow candy to cool then break along scores. Enrobe pieces in coating chocolate, tempered couverture , or melted chocolate chips.
Chocolate and Truffle Filling
1 C Cream
2 T Sugar
12 oz. Dark chocolate
3 T Butter

Chop up the chocolate and place in a bowl. Boil the cream and sugar then pour over chocolate. Emulsify together. Add butter and mix to a smooth consistency.
Chocolate coin method:
1. Transfer ganache to a piping bag and pipe quarter size portions on plastic or wax paper.
2. Flatten with a second piece and place in refrigerator to allow ganache to set up.
3. Enrobe in chocolate and place on plastic transfer sheets, flatten again with a second transfer sheet.
Truffle method:
1. Place ganache in a bowl and cover with plastic wrap directly on the surface.
2. Refrigerate for several hours until ganache is set.
3. Using a melon baller or preferably a small portion scoop, make balls and round them with gloved hands.
4. Roll in cocoa powder or finely chopped nuts. Alternately these can be enrobed in chocolate.