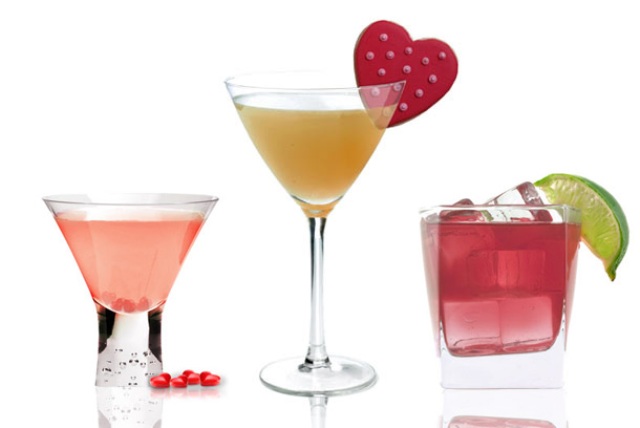 Cupid's gonna be busy tomorrow. So take some of the wooing matters into your own hands. Try out these delish love potions.
From Sassi:
Cara Mia
6 oz. Sassi Prosecco
1 ½ oz. Pomegranate liqueur
Garnish: 4-5 pomegranate seeds
Fill Champagne flute one-third of the way with the prosecco and add pomegranate liqueur. Garnish with pomegranate seeds. Serve.
Amore Smooch
1 oz. Godiva White liqueur
1 oz. Svedka Cherry Vodka
1 oz. Crème de Cacao
Mix all ingredients in a martini shaker. Strain into a stemless martini glass (bottom of the glass filled with crushed ice and two fresh rose petals). Garnish with three Svedka Cherry infused cherries, half dipped in chocolate.
From Eddie V's:
Eternal Blizz
2 oz. Hendrick's Gin
1 oz. St. Germain elderflower
.75 oz. Fresh lemon juice
.25 oz.  Simple syrup
Float Rose sparkling wine
2 strawberries, muddled
Garnish: Mint and half of a strawberry, sliced
Build this cocktail in a shaker tin, except the rose sparkling wine. Muddle strawberries. Add all other ingredients except the sparkling wine. Shake and pour into a rocks glass. Float Rose Sparkling Wine. Garnish with fresh sprig of mint and fresh-cut half strawberry.
Love Potion #9
Yield 30 martinis
(Recommended to prepare this one week in advance)
2 bottles Absolute Mango
2 Pineapples
2 lbs. Strawberries
Garnish: Lime wheel
Cut pineapple and strawberries and layer them in a jar or cambro. Pour both bottles of Absolute Mango on top of the fruit, then cover. Let the vodka infuse over a seven-day period. Store in a dark place at room temp for best results. After seven days, pull out the vodka and squeeze out the fruit. Make sure to strain out all of the bits of pineapple and strawberry. Pour the concoction into Store & Pours. To serve, pour three ounces into shaker with ice to chill, then pour into a martini glass.
Valentini
2 oz. Karma Silver Tequila
1 oz. Grand Marnier
.25 oz. Fresh lime juice
1 oz. Cranberry juice
.25 oz. Agave nectar
Garnish: Twist of lemon
In a shaker, mix all ingredients. Shake until chilled. Serve in a martini glass with a lime wedge.
From JW Marriott Desert Ridge Resort & Spa:
Cupid's Hot Pop
2 oz. Vodka
1 oz. Cinnamon schnapps
1 oz. Strawberry puree
1 package cotton candy-flavored Pop Rocks
Splash of simple syrup
Mix ingredients in a cocktail shaker with ice. Rim martini glass with Cotton Candy Pop Rocks. Strain and pour into martini glass.