Whether you're staying in this V-day or hitting the town, a delicious cocktail is on everyone's must-do list. If you're thinking about heading out, consider a stop a Ra for sushi–duh–and a few sips of its limited-time RA-Berry Romance cocktail. The concoction, designed for two and tasting of raspberry and citrus, is available through tomorrow for $12. Concerned you might like it so much and not be able to get it again until the next time Cupid comes around in 2010? No worries–you can make it at home. Here's the recipe: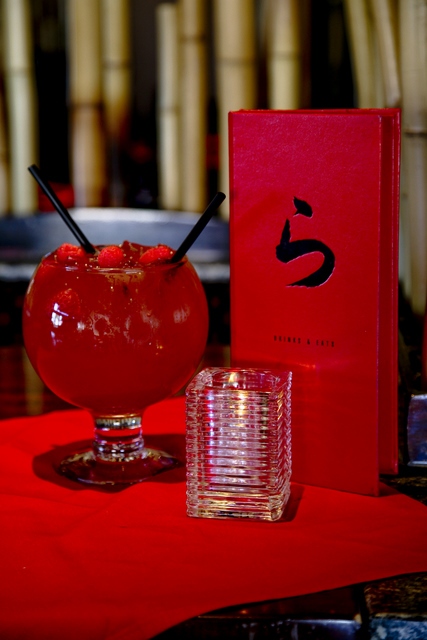 RA-Berry Romance
2 oz. Vodka
2 oz. Skyy raspberry vodka
1.5 oz. Soho lychee
1 oz. Sake
1 oz. Triple Sec
.5 oz. Black raspberry liqueur
Equal parts pineapple juice, lemonade and lemon lime soda
Pour ingredients in a mixing tin and fill with equal parts pineapple juice, lemonade and lemon lime soda. Pour into fishbowl filled with ice. Garnish with fresh raspberries.
While you're at it, here are a few more lusty libations that'll make for an extra sweet Valentine's Day. First up, a duo of drinks from PAMA Pomegranate Liqueur: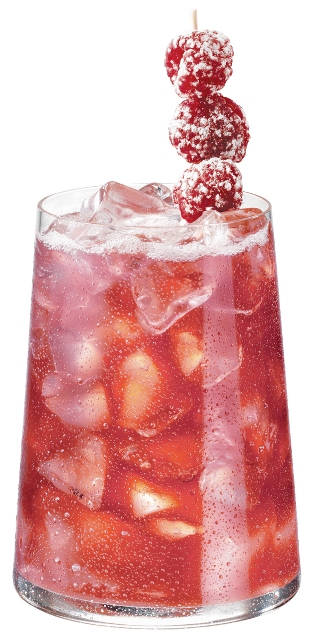 PAMA Kiss
1 1/2 oz. PAMA Pomegranate Liqueur
3/4 oz. Sour apple vodka
1/2 oz. Cranberry juice
Mix ingredients in martini shaker. Shake well. Serve on the rocks.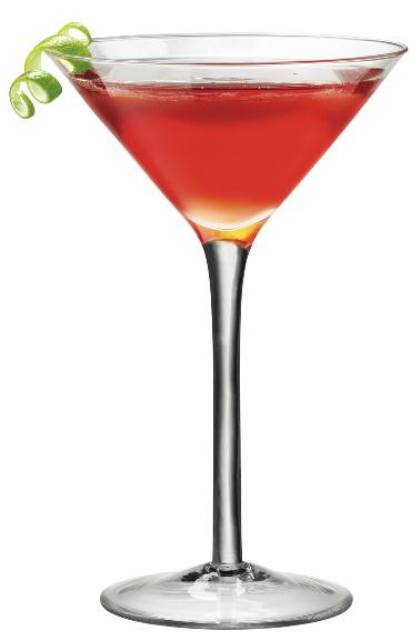 PAMA Passion
1 1/2 oz. PAMA Pomegranate Liqueur
3/4 oz. Peach schnapps
Orange juice
Lemon lime soda
Splash of grenadine
Garnish with a lime
Combine the PAMA and peach schnapps into a cocktail shaker with ice. Strain into glass and top off with the orange juice, lemon lime soda and grenadine.
And here are a few from 10 Cane Rum:
Love Potion #10
2 oz. 10 Cane rum
½ oz. Fresh squeezed lemon juice
½ oz. Fresh squeezed lime juice
½ oz. Pineapple juice
¼ oz. Maraschino cherry liqueur
Lemon slice for garnish
In a mixing glass, combine all ingredients. Add a generous amount of ice and shake vigorously. Strain into a glass half-filled with ice cubes. Garnish with a slice of lemon.
10 Cane Crush
1 ½ oz. 10 Cane rum
¾ oz. Luxardo maraschino cherry liqueur
¾ oz. Berentzen apple liqueur
½ oz. Fresh squeezed lime juice
2 Matchbox sized pieces of fresh pineapple
2 Long, thin slices of fresh ginger root
1 T Bar sugar
Pineapple leaf for garnish
Muddle pineapple, ginger and sugar in the bottom of a mixing glass until they turn into a consistent paste. Add the rest of the ingredients and fill the mixing glass half way with ice. Shake briefly and pour unstrained into a rocks or old-fashioned glass. Garnish with a pineapple leaf.