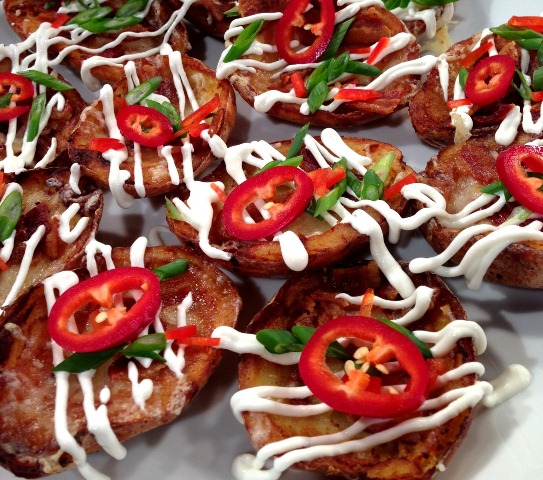 We have a super fan on our hands, people. Chef Justin Beckett of Phoenix's Beckett's Table is even closing his restaurant on Super Bowl Sunday so he can cheer on his beloved 49er's. But, he was still happy to share a few tasty game-day recipes for at-home chefs to cook up this weekend.
Super Bowl Meatballs
Serves 4
2 raw Schreiner's spicy Italian sausage (can use sweet Italian sausage if you do not like spice)
1 red bell pepper (sliced)
1 green bell pepper (sliced)
1 white onion (sliced)
1 large handful fresh basil leaves
1 teaspoon dried oregano
4 pieces raw bacon
2 (12oz) cans stewed or fire roasted tomatoes
1/2 cup red wine
Olive oil for sautéing
Salt and black pepper
Remove sausage from casing and roll into meatballs – approximately one inch in size. Heat sauté pan. Add oil and sear the meatballs. Do not cook them all the way through; just long enough to get a light crust. Remove meatballs from pan and place into a crock pot. Pour the red wine into the sauté pan to deglaze the pan. Pour all the wine and the flavor from the meatballs into the crock pot. Add the rest of the ingredients and cook on high for up to five  hours. Season the mixture with salt and pepper to your taste.
The Ultimate Sandwich
Serves 4-6
1 loaf of your favorite bread (at least 18-inches long and 3-inches wide)
1/2 lb smoked turkey (sliced thin)
1/2 lb roast beef (sliced thin)
1/2 lb salami (sliced thin)
Mayonnaise
Stoneground mustard
1/2 lb sharp cheddar cheese (sliced thin)
10-12 large basil leaves
2 large vine-ripe tomatoes (sliced thin)
2 large handfuls of arugula
1 cup muffaletta mix (can be substituted with pickled veg or marinated olive salad mix)
1/4 cup Italian dressing
Salt and pepper
Collecting the ingredients for this dish is not difficult, but the bread is key. Use a crunchy crusty crust with a doughy airy center. Cut bread in half horizontally. Spread mustard and mayo on both sides. Layer the meats and cheese on the bottom half. Stack on the tomatoes, arugula, basil, olive salad. Drizzle dressing and salt and pepper. Top with the other piece of bread. Slice with serrated knife and serve stacked high on a platter.
Yukon Gold Potato Skins
Serves 4-6
12-15 Yukon Gold potatoes
2 cups shredded cheese (cheddar and jack)
1 bunch green onions
1/2 cup sour cream
Bacon or pancetta
(If you like spice – you can add cooked chorizo)
Preheat oven to 375. Wash potatoes and pierce skin with a fork. Rub the skins with kosher salt. Bake for 35 to 40 minutes depending on size of potatoes. (Tip: try to use potatoes that are all the same size for even cooking.) Remove from oven and let cool. Cut in half and scoop out the insides of the potato. Reserve to make mashed potatoes or another dish. Turn your oven to broil/high. Place the scooped out halves on a baking sheet and toast in broiler until golden and crispy. Remove and add the cheese and meat. Place back in broiler until cheese is melted and bubbly. Remove and top with sour cream, onions and hot sauce, if desired. Enjoy while still hot.