I thought we could use just a few more Christmas-y cocktail ideas. Here are some delicious offerings from RA Sushi, Malee's Thai Bistro, Texaz Grill and Arizona Biltmore Resort's new Frank and Albert's.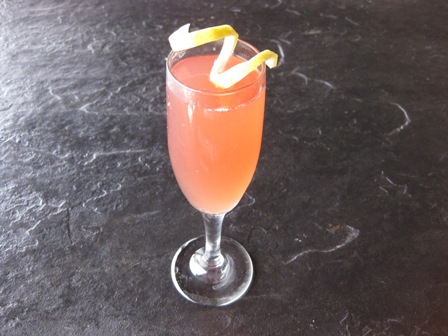 Christmas in Tokyo
From RA Sushi
1 oz. TYKU Soju
½ oz. Pama Pomegranate Liqueur
½ oz. Simple Syrup
¼ oz. ELIXIR G Ginger Puree
¼ oz. Soho Lychee Liqueur
Squeeze of lemon
In a martini shaker, with ice, combine all ingredients. In a glass, top mixture with Mionetto Prosecco sparkling wine. Garnish with a lemon twist.
From Frank & Albert's:



Cinnamon Vanillatini
1 1/2 parts Vanilla Vodka
½ oz Cinnamon Monin Syrup
1 part Bailey's Irish Cream
1 oz Cream
Fill a cocktail shaker with ice. Add the ingredients. Cover and shake vigorously until combined and chilled, about 30 seconds. Strain into a chilled martini glass. Garnish with a chocolate raspberry twig and dust lightly with ground cinnamon.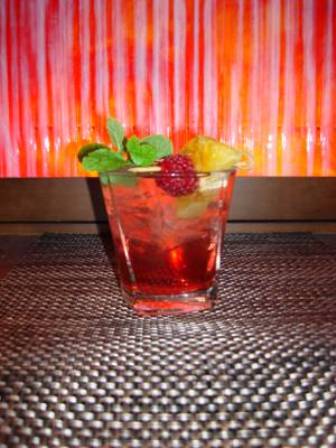 Lavender & Cranberry Sparkler
1 1/2 parts Rain Organic Lemon Lavender Vodka
1 1/2 parts club soda
1 1/2 parts cranberry juice
In a chilled rocks glass filled with ice, add Rain Organic Lemon Lavender Vodka. Top with club soda, and add a splash of cranberry juice. Present with orange brulee and raspberry skewer.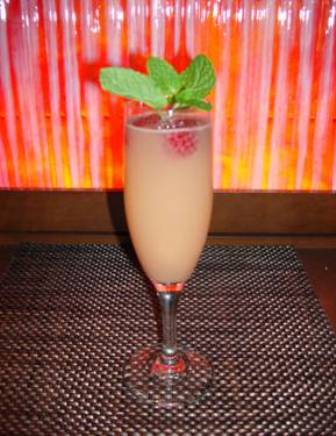 Raspberry Melon Bellini
4 oz Cordoniu Sparkling Wine
2 oz White Peach Puree
3 ea Fresh Raspberry
Pour the white peach puree into a Champagne flute. Slowly add the sparkling wine and mix with a bar spoon. Float three raspberries and garnish with a mint sprig.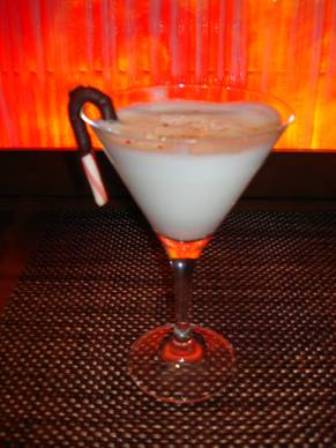 Peppermint Froth
1 1/2 parts Rain Organic Vodka
1 part peppermint schnapps
1/2 part simple syrup
1/2 part cream
In a cocktail shaker filled with ice, add all ingredients. Shake vigorously, and strain into a chilled martini glass. Garnish the top with crushed candy cane. Present with a chocolate-covered candy cane on the side of the glass.


Frank & Albert's Eggnog
1 1/2 parts Captain Morgan Spiced Rum
5 oz Eggnog
Sprinkle of cinnamon dust
Shake well over ice cubes in a shaker and strain into a bucket glass over ice cubes. Sprinkle lightly with ground cinnamon. Garnish with a dark/white chocolate stick. Serve with a straw.
Ginger Hot Toddy with Honeyed Cloves
From Malee's Thai Bistro
1.5 ounces Canadian Whisky
1/2 ounce Canton Ginger Liqueur
1/6 of lemon, juiced
1 teaspoon of honey
4 ounces of hot water
2 dashes of ground cloves
Combine ingredients.
Bourbon Milk Punch
From Texaz Grill
½ cup heavy cream
1 ¼ oz. bourbon (TEXAZ uses Jim Beam Bourbon)
1 teaspoon vanilla
2 tablespoons sugar
1 scoop Bluebell vanilla ice cream (ends up being about 6 oz.)
1 dash nutmeg
Combine all ingredients and blend for 8 seconds. Garnish with nutmeg.
*Recipe originated from Dickie Brennan at the Bourbon House in New Orleans