Have I told you that I'm pretty much obsessed with cookbooks? I especially love them when they have no-frills, cooked-with-love recipes that remind me of something my grandma would have whipped up for me. Such is the case with the new Gooseberry Patch Keepsake Cookbook, which has more than 200 family recipes (there is even a section to add in your own family recipes). The book is set to be released on the 21st. www.oxmoorhouse.com.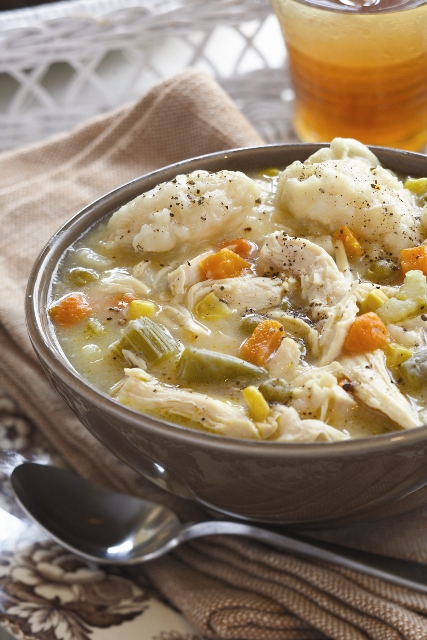 Chicken and Dumplin' Soup
10 3⁄4-oz. can cream of chicken soup
4 c. chicken broth
4 boneless, skinless chicken breasts, cooked and shredded
2 (15-oz.) cans mixed vegetables
12-oz. tube refrigerated biscuits, quartered
Optional: pepper to taste
Combine soup and broth in a 6-quart stockpot; bring to a boil over medium-high heat, whisking until smooth. Stir in chicken
and vegetables; bring to a boil. Drop biscuit quarters into soup; cover and simmer 15 minutes. Let soup sit 10 minutes before serving. Sprinkle each serving with pepper, if desired. Serves 6 to 8.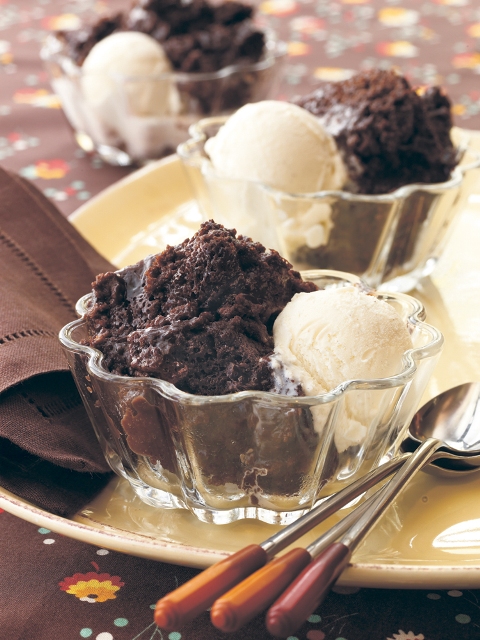 Fudgy Pudding Cake
18-1⁄4-oz. pkg. devil's food cake mix
3.9-oz. pkg. instant chocolate pudding mix
16-oz. container sour cream
3⁄4 c. oil
4 eggs
1 c. water
6-oz. pkg. semi-sweet chocolate chips
vanilla ice cream
Beat first 6 ingredients at low speed with an electric mixer 30 seconds or until blended. Beat at medium speed 2 minutes. Stir
in chocolate chips. Pour into a lightly greased 4-quart round slow cooker. Cover and cook on low setting 4 hours or until set around the edges but still soft in the center. Turn off slow cooker and let stand 20 to 30 minutes; do not lift lid until ready to serve. Serve with vanilla ice cream. Serves 8 to 10.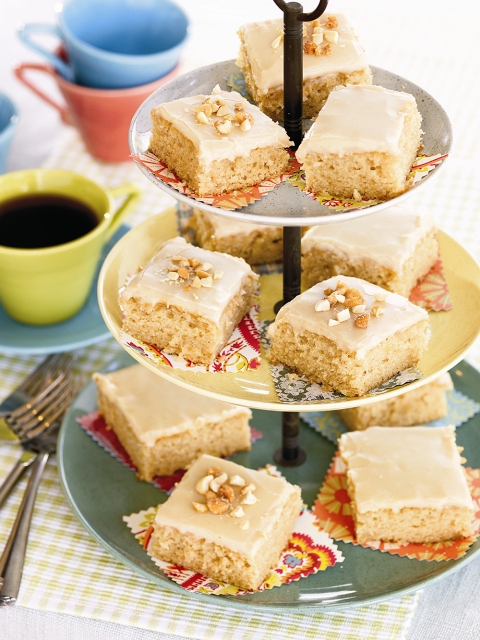 Peanut Butter Texas Sheet Cake
2 c. all-purpose flour
2 c. sugar
1⁄2 t. salt
1 t. baking soda
1 c. butter
1 c. water
1⁄4 c. creamy peanut butter
2 eggs, beaten
1 t. vanilla extract
1⁄2 c. buttermilk
Garnish: chopped peanuts
Combine flour, sugar, salt and baking soda in a large bowl; set aside. Combine butter, water and peanut butter in a saucepan over medium heat; bring to a boil. Add to flour mixture and mix well; set aside. Combine eggs, vanilla and buttermilk; add to peanut butter mixture. Spread batter in a greased 15″x10″ jelly-roll pan. Bake at 350 degrees for 25 to 28 minutes or until cake springs back when gently touched. Spread Peanut Butter Icing (recipe below) over warm cake and garnish, if desired. Serves 15 to 20.
Peanut Butter Icing
1⁄2 c. butter
1⁄4 c. creamy peanut butter
1⁄3 c. plus 1 T. milk
16-oz. pkg. powdered sugar
1 t. vanilla extract
Combine first 3 ingredients in a saucepan over medium heat; bring to a boil. Remove from heat; stir in powdered sugar and vanilla, mixing until spreading consistency.
Images and recipes courtesy of © Time Home Entertainment, Inc