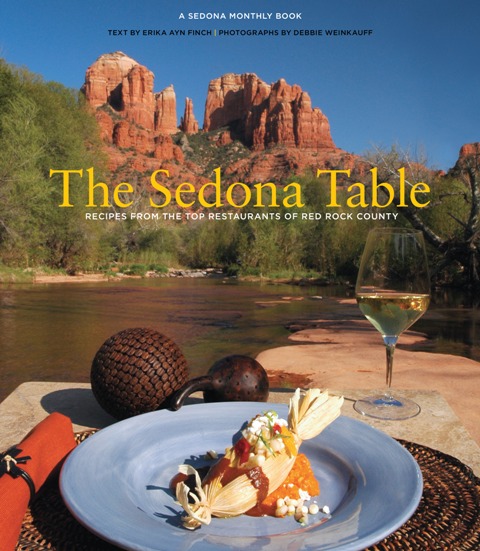 Fourteen of Sedona's most stellar chefs, from a dozen restaurants, have compiled their favorite recipes (as well as their cooking backgrounds and philosophies) in the new cookbook, The Sedona Table. The cookbook, by Erika Ayn Finch, made its debut this month and is available via www.globepequot.com.
Here are a few Arizona-centric recipes from The Sedona Table that really whet our whistles for local flavor: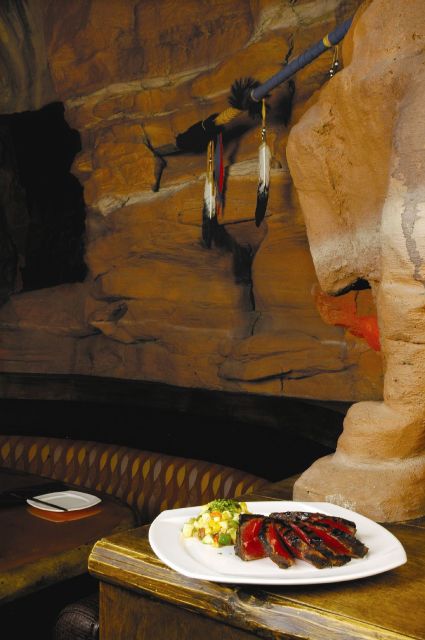 Café Tequila Grilled New York Steak with Red Rock Ratatouille
From Nathan Schreiber and Storytellers
Café Tequila Marinade
3 cloves Garlic
1 C Tequila Café XO
1 C Coffee
½ C Teriyaki sauce
¼ C Worcestershire sauce
½ tsp. Kosher salt
½ tsp. Ground black pepper
4 New York sirloin steaks (or any other steak; elk is also great this way)
Red Rock Ratatouille
1 ½ T Olive oil
¾ pound Red onion, diced small
3 cloves Garlic, minced
½ C Zucchini, quartered and sliced into ½-inch pieces
½ C Yellow squash, quartered and sliced into ½-inch pieces
1 C Corn
1 C Red bell pepper and green bell pepper, sliced ½ inch thick
1 Jalapeno chili pepper, minced
¼ T Ground cumin
¾ C Canned fire-roasted tomatoes
2 T Finely minced fresh cilantro
½ T Salt, or to taste
½ T Black pepper, or to taste
For the steaks: In a blender, combine all of the marinade ingredients (except for the steaks) and process until smooth. Place the New York sirloins in the marinade and refrigerate for at least four hours. Grill, basting with marinade, to your desired doneness. For the ratatouille: Heat the oil and add all of the ratatouille ingredients, except the cilantro, salt and pepper. Sauté until just soft; add the cilantro, salt, and pepper. Continue cooking for one minute more. Remove from the heat and serve with the New York Steak. Serves 4.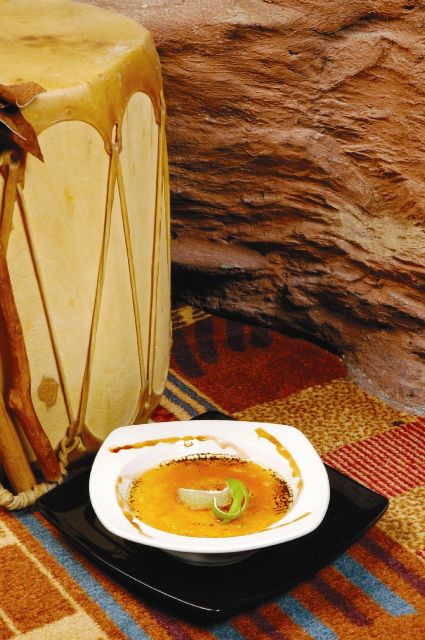 Prickly Pear Margarita Crème Brûlée
From Nathan Schreiber and Storytellers
14 Egg yolks
½ C Sugar
3 ¾ C Heavy cream
3/8 C Prickly pear syrup
3/8 C Tequila
Grated zest of 1 lime
Preheat the oven to 350 degrees. Mix the eggs and sugar in a large, heat-proof bowl. In a medium saucepan, bring the cream, syrup, tequila and lime zest to a simmer. Pour the cream mixture through a strainer to remove the zest, and then temper the cream slowly into the egg-sugar mixture. Ladle six ounces (about ¾ cup) of the brûlée mixture into eight appropriate-size oven-safe soup bowls. Place the bowls in a large 2-inch-deep baking pan; fill the pan with hot tap water until it comes halfway up the sides of the brûlées. Bake for 35 to 45 minutes. Remove from the oven when the centers no longer jiggle. Serves 8.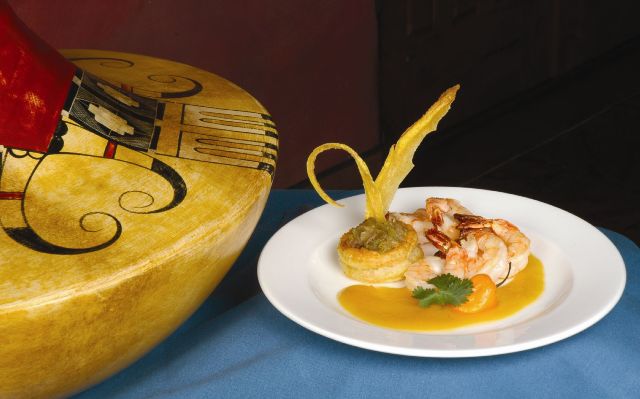 Grilled Arizona Sweet Shrimp
From Kyle Evans and the Barking Frog Grille
¼ C Dried apricots
1 Seedless habanero pepper (or more if you dare)
2 C apple juice
2 2-inch-diameter puff pastry circles, one with its center cut out, leaving a ring
1 Egg, beaten
1 Chopped leek, rinsed (no dark green)
2 T (1/4 stick) Butter
2 T Olive oil
1 pound Peeled and de-veined shrimp (**See Chef's Note)
1 ½ tsp. Chopped garlic
1 ½ tsp. Chopped shallots
Salt and pepper to taste
**Chef's Note: Desert Sweet Shrimp works particularly well in this recipe. It's available from www.desertsweetshrimp.com.
Preheat the oven to 375 degrees. Combine the apricots, habanero and apple juice in a medium saucepan. Simmer for 15 minutes, remove from the heat, then blend until smooth and set aside. Place a puff pastry circle on a sheet pan, brush it lightly with the beaten egg, then place the puff pastry ring on top of the circle and press gently to seal. Bake for 10 minutes. Sauté the leeks in the butter until soft and tender. Heat the olive oil in a sauté pan on medium-high heat, add the shrimp, cook for two minutes, then add the garlic, shallots and salt and pepper to taste.To serve, spoon some apricot sauce onto each plate, place the braised leeks in the center of the plate inside the pastry, and arrange the shrimp around each leek-filled pastry. Serves 6-8.