Happy New Year! To ring in 2012 (and start the New Year on a delicious note), jazz up the traditional glass of Champagne or sparkling wine with one of these bubbly-based cocktails.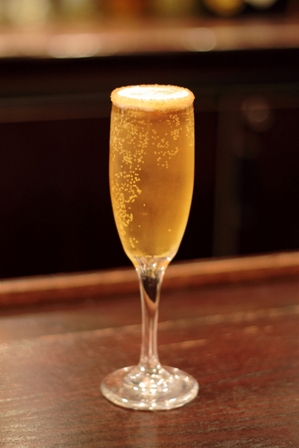 Sparkling Cinnamon Apple Cocktail (courtesy of Morton's, The Steakhouse)
4 oz. Lunetta Prosecco
2 oz. Lindemans Pomme (Green Apple) Lambic
½oz. Monin Honey Syrup
2 oz. hand-shaken whipped cream
Dip rim of Champagne flute into honey syrup and then into cinnamon sugar to rim the glass. Pour honey syrup, Prosecco and lambic into a shaker over ice. Stir with spoon 10 times. Strain into Champagne flute. Top with two spoonfuls of whipped cream. Dust with cinnamon sugar.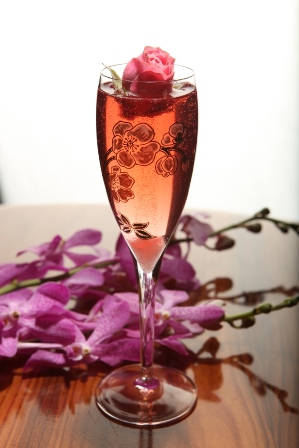 Perrier-Jouët Rose
¼ oz. Rose Water
1 sugar cube
3 dashes of fresh pomegranate juice
Perrier-Jouët Belle Epoque/Brut
Place the sugar cube in the bottom of a Champagne flute. Saturate it with rose water. Carefully top off with Perrier-Jouët Belle Epoque/Brut and add pomegranate juice. Garnish with dry baby rose buds.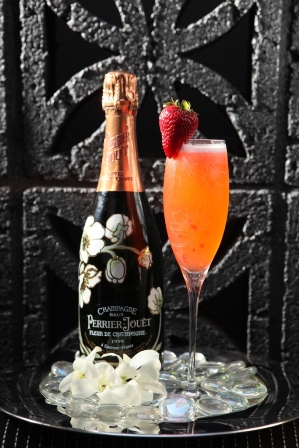 Perrier-Jouët Fraise Sauvage
2 oz. Perrier-Jouët Belle Epoque/Brut
1 ¼ oz. Vodka
¾ oz. fresh-squeezed lemon juice
¼ oz. simple syrup
1 whole strawberry
In a bottom of a mixing glass muddle the strawberry into a purée. Add all ingredients except Perrier-Jouët Belle Epoque. Add ice, cover and shake vigorously for 7-8 seconds. Pour Perrier-Jouët Belle Epoque/Brut into a chilled cocktail-martini glass and pour the cocktail over it. Garnish with half a strawberry.