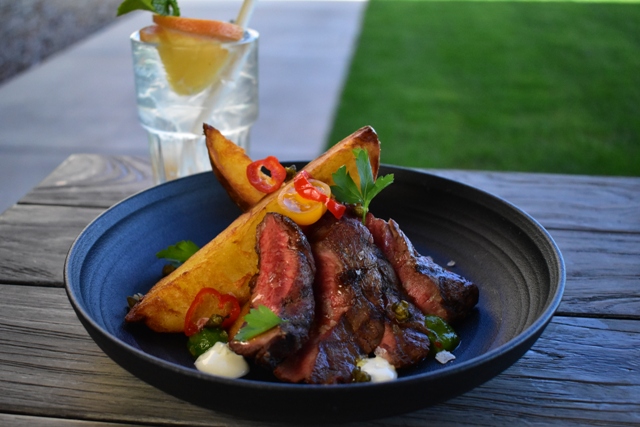 Pair this hearty offering from Lou's Bar & Grill at Papago Golf Course with a cold one after an afternoon on the green.
1 Baked potato
7 oz. Steak
2 oz. Chimichurri (see recipe below)
2 oz. Creamy goat cheese sauce (see recipe below)
3 Pickled tomatoes, cut in half (see recipe below)
Italian parsley leaves to garnish
Sea salt to taste
Baked Potato: Preheat oven to 350 degrees. Wash one medium potato and pat dry. Coat the potato with oil and season it with salt and pepper. Once it is seasoned, wrap the potato in foil and bake in the oven for approximately 40 minutes. After pulling the potato out of the oven, let it rest for 10 minutes and cut into quarters. Season with salt and pepper to taste. While the potato is cooking, make your sauces.
Chimichurri:
3 cloves Crushed minced garlic
½ C Chopped Italian flat0leaf parsley
3 Scallions, minced
2 T Capers, chopped
2 tsp. Crushed chili flakes
½ C Extra virgin olive oil
¼ C Red wine vinegar
Salt and pepper to taste
Mix all ingredients by hand in a mixing bowl.
Creamy Goat Cheese Sauce:
1 C Goat cheese crumbles
½ C Heavy cream
½ C Sour cream
Salt and pepper
Add all ingredients to the food processor or blender, and mix until the sauce is smooth.
Pickled Tomatoes:
1 T red wine vinegar
2 T Extra virgin olive oil
Mix and add tomatoes.
New York or Flat Iron Steak:
Season the steak with salt and pepper on both sides. The steak can be pan seared or grilled. Cook the steak to the preferred internal temperature. Let the steak rest for two minutes and then cut into half-inch slices. Fan the cut steak over the potato wedges. Garnish the dish with the parsley leaves, and drizzle with the chimichurri. Serve the creamy goat cheese sauce on the side.