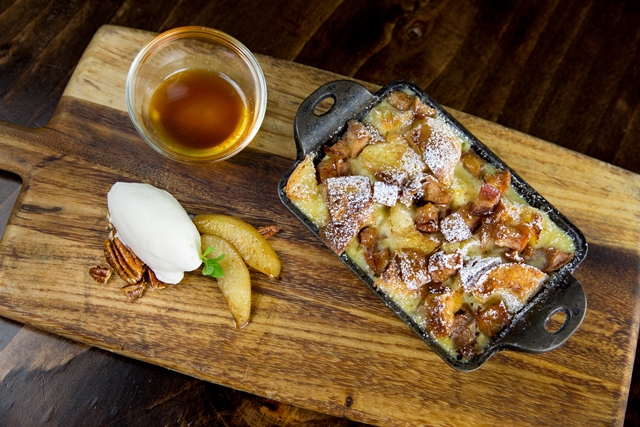 Woo your sweetheart this Valentine's Day by whipping up a decadent bread pudding dessert (courtesy of Orange Sky at Scottsdale's Talking Stick Resort)–no reservations or dressing up required.
Pink Lady Apple Bread Pudding
Yield: 12 portions
4 each Pink Lady apples
1 teaspoon Cinnamon
½ teaspoon Ground clove
¼ teaspoon Ground nutmeg
¼ teaspoon Ground ginger
15 ounces Granulated sugar
30 ounces Cubed brioche
5 ¾ cups Heavy cream
12 each Large egg yolks
12 ounces White chocolate chips
1. Preheat oven to 325 degrees.
2. Cut apples into medium dice size. Place into a saucepan. Add cinnamon, clove, nutmeg, ginger and 3 ounces of the sugar. Simmer until fork tender. Remove from liquid and drain well.
3. Place white chocolate chips into a medium-size mixing bowl. Bring heavy cream to a boil in a medium saucepan. Meanwhile, in a separate mixing bowl, using a hand whisk, whip the egg yolks and remaining sugar until it becomes pale and creamy. Add the yolk/sugar mixture to the hot cream, stirring constantly until the mixture reaches 185 degrees. Immediately pour over the white chocolate, stirring well to combine.
4. In a 9-inch-by-12-inch casserole dish, layer the cubed brioche bread and apples alternating until the pan is full and level with the sides. Pour the white chocolate mixture over the top. This may have to be done in stages until the bread absorbs the custard. Once the pan is full, cover with tin foil and bake for 30 to 45 minutes until an inserted toothpick comes out clean.