Attention, oenophiles. There are two new wine aerators on the market designed to improve the taste, bouquet and finish of your favorite vino. (Plus, both products are super quick and easy.)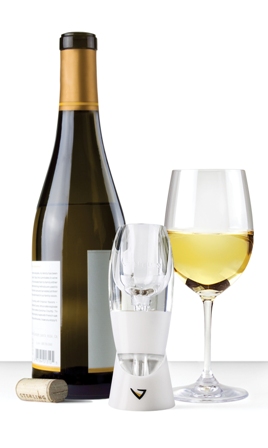 Vinturi White Wine Aerator
Exica, Inc., the pioneer of modern wine aeration responsible for the Vinturi Red Wine Aerator, just launched Vinturi White Wine Aerator, the first-ever aeration tool that is exclusively designed for use with white wine. Following the success and numerous accolades achieved by its red wine counterpart, the Vinturi White Wine Aerator confirms that proper aeration will similarly enhance the white wine experience. Vinturi White Wine Aerator uniquely accelerates the white wine breathing process, enabling wine drinkers to fully enjoy their wine from the very first sip. Instantly Vinturi White Wine Aerator claims to deliver a better bouquet, enhanced flavors and smoother finish.
To use, simply hold Vinturi White Wine Aerator over a glass and pour wine through. Carefully designed to blend beautiful form with function, Vinturi White Wine Aerator draws in and mixes the proper amount of air for the right amount of time, allowing wine to breathe in the time it takes to pour a glass.
Early feedback from industry experts has been incredibly positive. Says Danielle Salone, merchandise manager of Jacuzzi Family Vineyards and Cline Cellars in Sonoma, "At our winery we tout the benefits of the Vinturi, pouring only reds through it, but when we tried the Vinturi White Wine Aerator, we were amazed at how positively it affected the taste of the whites. We are excited to offer our customers the same benefits to our fine white wines as our reds." About $40, www.vinturi.com.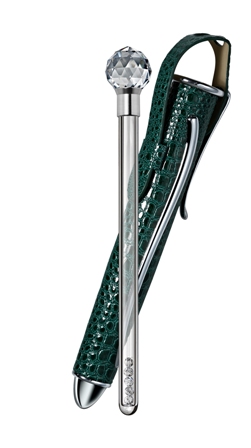 Wine Wand
Enhancing the taste of red wine, Philip Stein's latest product known as the Wine Wand naturally aerates red wine in minutes rather than hours. Its sleek elegant glass tube with encapsulated crystals is embedded with natural frequencies including oxygen which accelerates the aeration of wine once it is placed into a glass or bottle of red wine.
The wand comes in travel sizes perfect for glasses, and aerates red wine in only two to three minutes. Alligator, python or crocodile cases accompany each travel wand in an assortment of colors like green, red, blue and metallic silver. Bottle-size wands are also available in a sleek black carbon fiber case.
The Wine Wands are sold at fine retailers including Saks Fifth Avenue and retail at $325 for the travel size and $525 for the bottle size. www.PhilipStein.com.