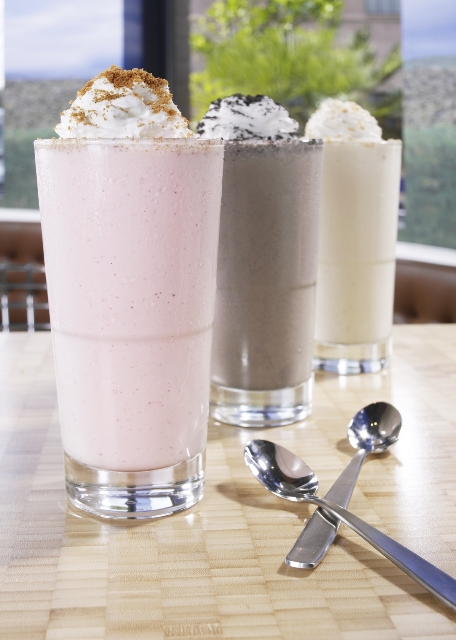 Phoenicians love milkshakes. Two years ago, I wrote a popular Top Milkshakes in Phoenix entry that proved to be quite popular, featuring the too-tasty milkshakes at, to name a few, Gilbert's Joe's Farm Grill and Udder Delights (which are still favorites). So, thanks to this hot-hot heat, I am following it up with a new roundup of delicious milkshakes in the Valley that you should give a sip.
Zinburger Wine & Burger Bar This Fox Restaurant Concept in Phoenix's Biltmore Fashion Park dishes up a divine burger and delicious truffle fries. However, it is the restaurant's amazing lineup of milkshakes that makes it a must-stop in July. Zinburger thinks beyond the chocolate/vanilla/strawberry box and offers up unique chilled confections like the strawberry cheesecake shake, the bananas foster shake and the double chocolate mint shake, to name a delicous few. And we won't blame you if you happen to dunk said truffle fries in your shake. http://www.foxrc.com/.
Sweet Republic At Scottsdale's Sweet Republic, the milkshake possibilities are endless! The shop's shakes can be concocted from any of its incredible ice cream flavors. Can you imagine honey-blue cheese being sipped through a straw? Or what about a cooling basil-lime sorbet shake? Vanilla-schmnilla. http://www.sweetrepublic.com/.
Sugar Bowl I'm sure you're not shocked that one of the Valley's top spots for ice cream also dishes out super-duper shakes. Scottsdale's Sugar Bowl offers creamy shakes and malts in a tempting variety of flavors, from the traditional (vanilla, strawberry and four types of chocolate) to the unexpected (pineapple-mint, black raspberry and cherry, to name a few). http://www.sugarbowlscottsdale.com./