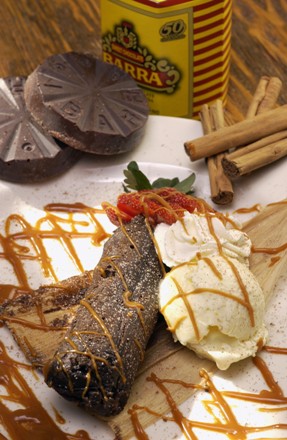 First of all, Happy Thanksgiving! I know that today is all about the turkey and pumpkin pie. However, Scottsdale's Los Sombreros has another delicious thing to think about: their yummy holiday tamales, which are now available for purchase. Since 1994, the Valley's finest holiday tamales are hand-crafted by Los Sombreros owner Azucena Tovar and her staff. From November 26 to December 23, Los Sombreros will offer 12 different varieties of hand-made tamales, all created from scratch using traditional ingredients. Tamales may be ordered in different configurations: 12 tamales of one flavor for $24.95; one tamale of flavor for $26.95; or the nine-item Noche Buena Dessert Sampler—three each of three different sweet tamales—for $21.95.
Originally a Mexican Christmas-time tradition, holiday tamales have spread throughout the American Southwest. This beloved tradition is a time when family members come together to celebrate the present and honor the past. Azucena, who fondly remembers the Christmases of her own childhood in the Mexican colonial city of San Miguel de Allende, wants to share this tradition with others, including those who might not have the time to craft their own tamales.
Like everything else at Los Sombreros, holiday tamales are crafted with care and attention to detail. Tucked inside a handsome red box and tied with twine, they make a wonderful holiday gift for family, friends and business associates.
Tamale varieties include:
Green Corn
Rajas Cheese
Smoked Chicken
Tomatillo Chicken
Chipotle Pork
Spicy Pork
Red Chile Beef
Beef & Cheese
Chorizo & Black Bean
Pineapple & Raisin
Canela (Cinnamon)
Chocolate
Orders may be placed 48 hours in advance. Call 480.994.1799 or visit Los Sombreros Mexican Café & Cantina, 2534 N. Scottsdale Rd., Scottsdale. Orders must be picked up at the restaurant.
For more information about Los Sombreros and the restaurant's amazing tamales, visit http://lossombreros.com/.