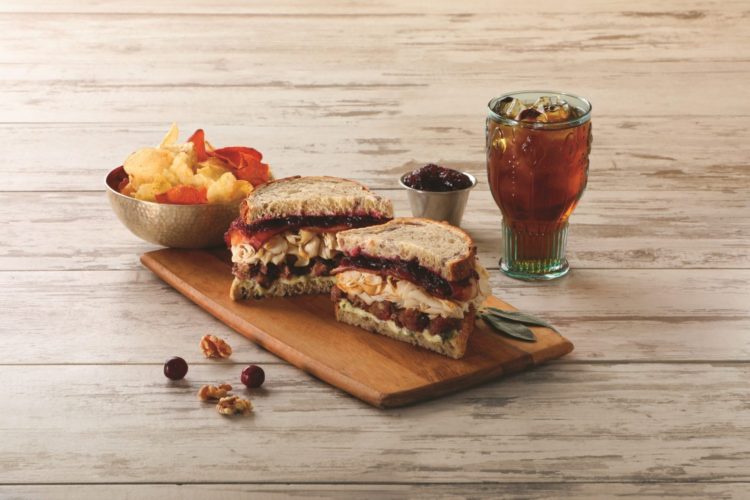 Wildflower's famous Turkey Cranberry Walnut Stuffing Sandwich returns for the 15th year in a row, for a limited time at all their valley-wide locations. The sandwich is piled high with herb mayo and bacon served on fresh-baked stuffing bread with a side of original or sweet potato chips.
The Cranberry Walnut Stuffing is made using Cranberry Walnut Bread, celery, onion, dried cranberries, port wine, chicken broth, thyme, salt, and pepper.
The stuffing bread is made from naturally leavened sourdough packed with carrots, celery, pecans, and fresh sage and tastes just like homemade stuffing on Thanksgiving!
The holiday sandwich will be available through Thanksgiving; Thursday, November 26th.
Other seasonal offerings include the Butternut Squash Ravioli with roasted walnut cream sauce & nutmeg and a new salad; Butternut Squash and Apple.
The salad features roasted butternut squash, apples, organic baby kale, organic quinoa, toasted walnuts, dried cranberries, and goat cheese paired with an all-natural pomegranate vinaigrette dressing.
For the Thanksgiving holiday, Wildflower will also be offering three seasonal, signature pies including the Pumpkin Pie, Crumb Apple Pie and Roasted Nut Pie in addition to their Cranberry Batard Bread of the Month, a Stuffing Loaf, and Pumpkin Cinnamon Loaf.
Three options of pull-apart rolls will also be offered including the Potato Dill, Sourdough, and Nine Grain. All of the Fall offerings are available for dine-in, curbside, pick-up, takeout, or delivery.
About Wildflower:
Wildflower serves award-winning food for breakfast, lunch, and dinner, and features handcrafted artisan bread and a specialty bakery. Wildflower is well known for its unique breakfast, sandwiches, salads, soups, and pasta.
Breakfast is served weekdays until 10:00 a.m. and weekends until 2:00 p.m. Pasta is served daily from 3:00 p.m. to close. There are sixteen locally owned locations throughout the state of Arizona.
For more information, visit www.wildflowerbread.com.