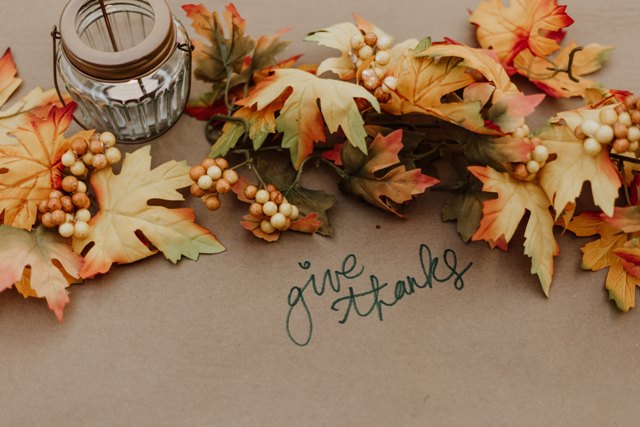 Spend Turkey Day indulging and imbibing with family and friends–instead of in the kitchen–at these Valley dining destinations. Be sure to make reservations and check individual restaurants for their Thanksgiving menus.
Ritz-Carlton, Dove Mountain in Marana offers a trio of ways to celebrate Thanksgiving: brunch at Cayton's Burger Bistro from 11 a.m. to 3 p.m. with turkey and prime rib carving stations; lunch at CORE Kitchen & Wine Bar from 12:30 to 2:30 p.m. with three delicious courses; or dinner at CORE starting at 4:30 p.m. The dinner is a traditional four-course feast with the likes of turkey, halibut, grilled beef tenderloin, a pie buffet and more.
Match Restaurant and Lounge offers a Thanksgiving feast from 10 a.m. to 9 p.m. and includes Waldorf salad, roasted turkey dinner with rosemary gravy, house-made cornbread stuffing, yukon gold smashed potatoes, brown sugar candied yams with toasted marshmallows and almonds, green bean casserole, cranberry sauce with cherries and thyme and dinner rolls. To end, pumpkin or sweet potato pie.
On Thanksgiving Day, guests can choose between a four-course prix-fixe menu at elements from noon to 8 p.m. or a generous buffet at The Views Ballroom at Sanctuary on Camelback. In addition to a traditional turkey dinner with chestnut stuffing, mashed potatoes, cranberry apple relish and giblet gravy, a sampling of the menu choices at elements include filet of beef, garlic and brioche-stuffed pork tenderloin and more. The Thanksgiving buffet at The Views Ballroom will be served from 11 a.m. to 3 p.m.
You are invited to El Chorro's annual Thanksgiving dinner. The beloved restaurant will be open from 11 a.m. to 6 p.m. for a three-course plated dinner while the buffet (with organic turkey, prime rib, salmon, soup and salad and much more) will be open from noon to 4 p.m.
Gather with family, friends and loved ones and give thanks over a decadent Thanksgiving feast at Different Pointe of View at Pointe Hilton Tapatio Cliffs Resort. The restaurant  will be serving a buffet-style dinner overlooking the city skyline from noon to 7 p.m.  On the carving board, Executive Chef Anthony DeMuro will be slicing Amber Ale-brined and basted slow roasted turkey breast, slow-roasted Cedar River Farms prime rib and applewood-smoked pork loin.
Vista Verde at The Scottsdale Resort at McCormick Ranch hosts its annual Thanksgiving Day buffet from 11 a.m. to 4 p.m. with a seafood ice display, carving stations, a variety of desserts and more. Kitchen West offers a delish three-course Thanksgiving dinner from 5 to 10 p.m.
At Arizona Biltmore, enjoy a buffet from noon to 6 p.m. in the historic Gold Room; for a more relaxed setting, guests can enjoy four courses at Wright's at the Biltmore, the hotel's legendary fine dining room; or Frank & Albert's will be host to a three-course specialty menu available from noon to 9 p.m.
At Royal Palms Resort and Spa, there are two lavish dining experiences available to choose from. The Royal Palms Holiday Brunch Buffet (10 a.m. to 3:30 p.m.) in the grand Palmera Ballroom will feature an array of festive options while T. Cook's, will also offer a three-course, prix-fixe menu from 11 a.m. to 8 p.m.
Join family and friends for Thanksgiving at LON's at the Hermosa, as Executive Chef Jeremy Pacheco and his culinary team create a three-course prix-fixe meal featuring contemporary takes on traditional holiday favorites from noon to 7 p.m.
Celebrate at Four Seasons Resort Scottsdale at Troon North with a bountiful brunch at Talavera from noon to 6 p.m. or a casual dinner at Proof, An American Canteen from 4 to 9:30 p.m.
Hotel Valley Ho offers two delicious buffets. For a classic holiday feast, reserve your spot at The Valley Ho Thanksgiving Buffet, served at Sands from 10 a.m. to 2 p.m. ZuZu, the hotel's recently revamped signature restaurant, is serving a holiday dinner buffet from 4 p.m. to 9 p.m., including a special starter buffet.
Hearth '61 at Mountain Shadows is serving a special Thanksgiving dinner from 11 a.m. to 9:30 p.m., along with its brunch and dinner menus all day. Festive specials offered à la carte include butternut squash soup, slow-roasted Two Wash Ranch turkey dinner and pumpkin pie.
Maple & Ash will be available 1 to 8 p.m. on Thanksgiving Day with a special seasonal holiday dish, slow-roasted black truffle turkey breast with brioche stuffing, brussels sprouts, seasonal mushrooms with confit turkey leg. The regular dinner menu also will be available.
Hyatt Regency Scottsdale Resort & Spa at Gainey Ranch invites Valley residents to celebrate Thanksgiving Day with a special SWB Thanksgiving Feast Buffet in SWB, a southwest bistro, from 1 to 10 p.m.
Galeto Brazilian Steakhouse will be open on Thanksgiving Day from noon to 9 p.m. A full Churrasco buffet-style dinner will be available with traditional Brazilian steakhouse menu featuring over 60 hot and cold dishes including fresh seafood, roasted fish and hot entrees, salads, cheese selection, steak plus a special seasonal Thanksgiving menu.
From noon to 9 p.m., revel in all you are thankful for while you indulge in healthy, yet indulgent, culinary creations at Terras at CIVANA in Carefree. Dinner will celebrate the season's best flavors with an exclusive prix-fixe menu complete with all the trimmings.
Chef Tomaso Maggiore's Italian-inspired Thanksgiving menu has Italian twists on American favorites–including roasted turkey–from noon to 9 p.m. on Thanksgiving Day at Tomaso's.
Hash Kitchen is serving up its own spin on Thanksgiving Nov. 28 through Dec.1 with dishes like carved turkey and a stuffing waffle served with smashed potatoes and gravy or the sweet potato pancakes with maple cranberry syrup at its four Valley locations. Hash Kitchen will be open from 7 a.m. to 3 p.m. on Thanksgiving.
At Omni Scottsdale Resort & Spa at Montelucia, savor a four-course prix-fixe menu, which includes delicious options like roasted sugar pie pumpkin soup, black truffle roasted organic turkey and baklava cannoli from 1 to 8 p.m.
The Boulders Resort & Spa's signature Palo Verde Restaurant will be serving a family style-four course specialty feast on Thanksgiving from noon to 7 p.m.
Morton's the Steakhouse is open on Thanksgiving Day, serving families a signature steak dinner beginning at noon. Select locations will be offering filet and  lobster.
Padre Murphy's will be opening its doors at 10 a.m. for a Thanksgiving feast (served from 10:30 a.m. to 3 p.m.) and a day of football on 100-plus TV's. The buffet features holiday favorites like turkey, stuffing, yams, pumpkin pie, cranberry relish and more.
Ahnala Mesquite Room at We-Ko-Pa Resort & Conference Center dishes up a festive holiday menu with apple and roasted butternut squash salad, roasted turkey, spiral ham and much more from 11 a.m. to 9 p.m.
Voila French Bistro is hosting a special Thanksgiving Day brunch. The three-course menu will allow guests to have a choice of appetizer and entrée plus dessert and include drinks both coffee or tea and red or white wine and Champagne. A kids' menu is also available.
On Thanksgiving Day, Thursday, Nov. 28, from noon to 7 p.m., guests are invited to join the Keeler family at Keeler's Neighborhood for a traditional turkey feast. Menu offerings include a complete three-course meal; a la carte-style ordering is available.
Liberty Station American Tavern and Smokehouse is offering a three-course Thanksgiving menu featuring a traditional holiday dinner with sliced smokey turkey and much more.
On Thursday, Nov. 28, Blue Hound Kitchen and Cocktails will be offering a Thanksgiving Day special featuring a classic turkey and stuffing entrée during lunch from 11 a.m. to 3 p.m. and dinner from 5 to 10 p.m. in addition to the regular lunch and dinner menus.
MODERN OYSTERBAR CHOPHOUSE will be open Thanksgiving Day when they will offer a special menu with oven-roasted turkey and pumpkin butter cake from 1 to 8 p.m. The regular menu will also be available that day.
Merkin Vineyards Tasting Room & Osteria in Cottonwood whips up a traditional one-plate Thanksgiving dinner with a Merkin twist: roasted turkey and gravy, mashed potatoes, sweet potato gnocchi with marshmallow, cornbread stuffing with sage and fennel sausage, green bean casserole-stuffed ravioli and cranberry chutney; and pumpkin panna cotta.
Voila French Bistro is hosting a special three-course Thanksgiving Day brunch. The menu will allow guests to have a choice of appetizer and entrée plus dessert and include drinks both coffee or tea and red or white wine and Champagne. A kids' menu is also available.
The Keg Steakhouse + Bar at Tempe Marketplace and Desert Ridge offer a three-course menu featuring their classic Caesar salad, traditional turkey dinner and cheesecake topped with pumpkin drizzle starting at 11 a.m.
Fairmont Scottsdale Princess brings together seven chefs for an epic Thanksgiving brunch from 10 a.m. to 3 p.m. at the Palomino Ballroom. Dig into everything from traditional holiday eats to tamales, sushi, short ribs, a divine dessert display and much more.
JW Marriott Camelback Inn Resort & Spa's Rita Cantina and Acacia at Camelback Golf Club will both ring in the holiday (brunch and a plated dinner at Rita's and a family-style dinner at Acacia). Its sister property JW Marriott Desert Ridge Resort & Spa is dishing up four tasty ways to celebrate: breakfast buffet at Wildflower Ballroom, grand buffet at stonegrill, a la carte lunch at MERITAGE, an urban tavern and an a la carte dinner menu at Twenty6 Lounge.
In addition to serving the regular menu, Agave del Scottsdale will offer a special three-course prix-fixe menu with dishes like filet mignon con salsa de Romero and sautéed Mexican white sea bass.